Venezuela has until 2016 to adapt to Mercosur tariffs and rules system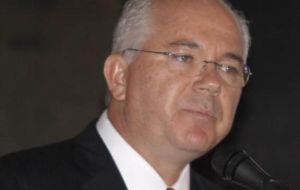 Venezuela will adopt the Mercosur common external tariff in four annual stages which are scheduled to conclude in the first half of 2016, according to what was agreed at the summit held Friday in Brasilia and reported by Brazilian diplomatic sources. This was Venezuela's first summit as a full member of the South American trade and political block.
Starting this month Venezuela will comply with the first leg of the convergence chronogram and will adopt the common external tariff for 28% of the universe of Mercosur items. For the remaining 72% there will be a three stages approach concluding in 2016.
Likewise Venezuela also agreed to accelerate the incorporation process by adopting beginning in the first quarter of next year the Mercosur Nomenclature, and 30% of the group's rules, regulations and standards, concluding in 2016.
The summit hosted by Brazilian president Dilma Rousseff was also attended by Argentina's Cristina Fernandez, Uruguay's Jose Mujica who will be holding the rotating chair of Mercosur during the next semester. In the absence of Hugo Chavez and Vice president Nicolas Maduro from Venezuela, the country was represented by Rafael Ramirez, Energy, Oil and Mining minister.
In the joint declaration the presidents of Mercosur described the Venezuelan decisions to accelerate the incorporation process "as evidence of the priority commitment with the integration process and the strengthening of the customs union".
Venezuela also agreed to begin contributing to the Structural Convergence Fund, Focem an instrument created by Mercosur to help finance development projects in the poorer countries of the block and compensating the serious misbalances among its members.
Venezuela became full member last July following the suspension of Paraguay (the other full member of Mercosur) in June when the Paraguayan Senate removed, via impeachment, Fernando Lugo and replaced him with Federico Franco.
Venezuela's request to join the group dates back to 2006 and was supported by the legislatives from Argentina, Uruguay and Brazil, but was on hold because the Paraguayan Senate refused to ratify the initiative while 'non democratic' Chavez was president of the country.