Uruguay legalizes same sex marriage and rights by overwhelming majority
Wednesday, December 12th 2012 - 18:40 UTC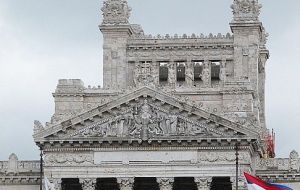 Uruguay's Lower House voted 81 in 87 to legalize same sex marriage on Wednesday, approving a single law for both heterosexuals and homosexuals regulating all kinds of family issues, from divorce to adoption to in-vitro fertilization and how parents can name their children.
The proposal now goes to the Senate, where the ruling coalition has enough votes for passage. Conservative President Jose Mujica plans to sign it into law early next year.
"I respect those who think that marriage is between a man and a woman. It's respectable. But the reality is something else. If this law isn't adopted, the only thing we'll be doing is what the ostrich does: Deny reality and stick our heads under the ground," said Anibal Pereyra, a lawmaker who co-sponsored the proposal for the ruling Broad Front coalition.
Pablo Abdala of the center National Party was among the opponents, saying gays and straights shouldn't be put under the same law.
"Without a doubt there are gaps in the laws (governing gay and lesbian couples) and the political system must provide solutions. Now, is this necessarily the answer? No. Diversity, by definition, means being different," he said.
Among other things, the law would let all couples, gay or straight decide whose surname goes first when they name their children.
That breaks with a tradition that has held for centuries across Latin America, where in nearly every country, laws require people to give their children two last names, and the father's comes first.
The "Marriage Equality Law" also would replace Uruguay's 1912 divorce law, which gave only women, and not their husbands, the right to renounce marriage vows without cause. In the early 20th Century, Uruguay's lawmakers saw this as an equalizer, since men at the time held all the economic and social power in a marriage, historian Gerardo Caetano said.
"A hundred years later, with all the changes that have occurred in Uruguayan society, this argument has fallen of its own accord" added Caetano. "It's absolutely logical now that divorces can happen if either party wants it. And I really think it won't have much of an impact".
Uruguay earlier this year legalized abortion under certain strict conditions and its parliament is debating a plan to put the government in charge of marijuana sales as a way to attack illegal marijuana traffickers.
The new proposal would make Uruguay the second nation in Latin America and the 12th in the world to legalize gay marriage, after The Netherlands, Belgium, Spain, Canada, South Africa, Norway, Sweden, Portugal, Iceland, Argentina and Denmark.
The bill also would clarify rules for adoption and in-vitro fertilization, and eliminate the words "marido y mujer" (husband and woman) in marriage contracts, referring instead to the gender neutral "contrayentes" (contracting parties).
The Roman Catholic Church is opposed to the proposal, but the church has little political influence in secular Uruguay.