Argentine inflation 25.4% in last twelve months according to private estimates
Friday, December 14th 2012 - 20:25 UTC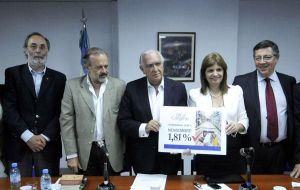 Argentine opposition lawmakers presented November's inflation rate, or 'Congressional rate' based in the analysis of nine private agencies, which showed a 1.81% advance against the previous month, accumulating 25.4% in the last twelve months, "the highest in 18 months".
As every month lawmakers Ricardo Gil Lavedra, Juan Pedro Tunessi, Paula Bertol, Pablo Tonelli, Patricia Bullrich, Eduardo Amadeo and Carlos Brown, members of the Freedom of Expression committee offered a press conference at the Lower House, where they reported the inflation index, an average from private consultants who are exposed to court actions and fines by the Secretary of Domestic Commerce if they make them public.
"This is the highest rate registered in the last eighteen months. The inflation is in the heart of the main issues of the government," Gil Lavedra stated.
He added that the slowing down of the economy has not been countered by a drop in the inflation rate, 'rather the contrary' which means loss of competitiveness, soaring 'Argentine cost' and social conflicts such as not elevating the floor for income and other taxes.
Earlier this week opposition lawmakers and organized labour union leader Hugo Moyano called on the government to discuss in Congress modifications to the income tax.
The Argentine government stats office Indec is expected to announce any moment its November inflation index which most probably will be less than half the Congressional index as has happened sustainedly during the whole year.
In the last two years the controversial Indec inflation rate has been below one percent, while the Congressional index has more than doubled and in some months has soared over 2%.
The official inflation and GDP indexes are questioned by the IMF and World Bank and locally unions and courts refer to the so called Congressional index, ignoring Indec.