Brazil outbound travel, preferably Europe and US one of the fastest growing
Friday, December 14th 2012 - 07:07 UTC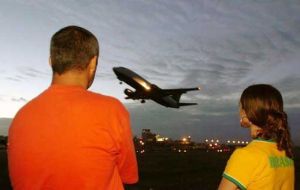 In terms of outbound travel South Americans are ahead of everyone else in the Americas. In 2012, they undertook 12% more trips abroad than last year, marking a new record. The country clearly driving growth is Brazil.

This is one of the findings of the ITB World Travel Trends Report, compiled by IPK International and commissioned by ITB Berlin. Outbound travel from the US this year is forecast to rise by about 3%. The number of long-haul trips rose by 6%, while short-distance travel fell by around 1%.

Following an increase this year, in 2013 US travel figures are predicted to remain stable, at most. The unsettled economy continues to strongly affect consumers' plans. Around 52% of Americans, more than half of those polled, said the recession influenced their travel intentions, although plans for trips abroad were less affected than local travel.

Around 23%, two percentage points more than in 2011, actually aimed to undertake more international trips, while only 14%, previously 21%, have no plans at all to travel abroad. In 2013, overall growth in the US market is expected to be zero.

Brazil, South America's economic powerhouse, has overtaken everyone else in the Americas and currently leads the market in spending on trips abroad, which in 2010 rose by 50% and in 2011 by 30%. In 2012 it is forecast to rise by 16 billion dollars, compared with last year. As such, Brazil now plays a leading role in the global tourism market.

The destinations most popular with Brazilians are in Europe and the US. Economic uncertainty is now also manifesting itself in Brazil. Thus, 45% said the recession would affect their travel plans. Whereas last year 42% said they wanted to travel more, today that figure stands at 29%. Overall, in 2013 outbound travel is forecast to increase by around 2%, compared with 2012.

The decline in trips abroad has had a positive effect on local tourism. This trend is in keeping with the anticipated increase in foreign arrivals, which Brazil is preparing for as the host of two major upcoming sporting events, the FIFA World Cup and the Olympic Games, for which it has invested heavily in its tourism infrastructure.

Launched by the consultancy IPK International and sponsored by ITB Berlin, every year at the World Travel Monitor Forum in Pisa, tourism experts and scientists from around the world present current statistics and the latest trends in international tourism.

Details of the studies will be presented by the ITB World Travel Trends Report. The report is based on the assessments of around 50 tourism experts from 30 countries, on a special IPK International trend analysis undertaken in major source markets, and on core data supplied by the World Travel Monitor®, recognized as the largest continuous survey of global travel trends in some 60 source countries.

The findings reflect trends which emerged during the first eight months of 2012.