IMF praises Chile as one of the most stable and prosperous nations in the region
Friday, December 14th 2012 - 20:43 UTC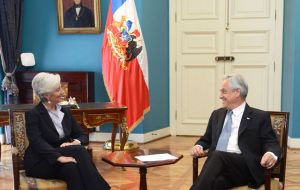 IMF Managing Director Christine Lagarde described Chile as one the most stable and prosperous nations in South America which has enjoyed robust growth over the last decade, but also warned it remains exposed to shifts in commodity prices.
"Chile's strong economic policy framework, including a fiscal rule, inflation targeting, and exchange rate flexibility has underpinned the economy's resilience in the face of the global financial crisis and the devastating earthquake in February 2010", said the IMF head.
Growth momentum is expected to remain strong and risks relate mainly to the uncertain global environment, she added.
But Chile remains exposed to shifts in commodity prices and deterioration in global financial market sentiment, although its ample policy buffers would provide protection, cautioned Ms Lagarde.
On the upside, continued strong domestic demand can put upward pressure on inflation and lead to further widening of the current account deficit.
"In the medium term Chile should aim at achieving higher productivity growth and diversifying the economy further with a view to sustaining high economic growth rates in the future. In this context, reforms to improve the quality of education and training enhance labour market efficiency, and boost investment in the energy sector will be critical".
Finally the IMF chief her visit to Chile has been very productive in meetings with President Sebastian Piñera, Finance Minister Felipe Larraín, and Central Bank President Rodrigo Vergara.
"During my stay here, I had the opportunity to participate in the meeting of the Community of Latin American and Caribbean States Finance Ministers, where we exchanged views on the challenges and opportunities for the region. I also met students and faculty in a Town hall event at the Universidad de Chile and we discussed issues facing the young people of the region.