Paraguay blasts Mercosur and Argentina and calls to follow 'Chile's example'
Friday, December 14th 2012 - 07:46 UTC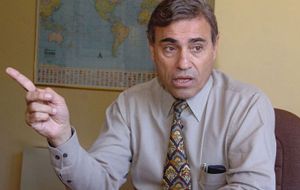 Paraguay's industrial union, UIP, lashed at Mercosur over the incorporation of Venezuela as a full member and Argentina's reiterated lack of respect for signed agreements and understandings.
Eduardo Felippo, head of UIP, read a statement to the industrial lobby members at an end of the year event which also included President Federico Franco and several of his cabinet ministers.
Felippo said that in its twenty years of existence Mercosur has been unable to complete any serious integration process and has also been unable to reach a trade agreement with the European Union.
"And how in the world can we believe integration will be reached with the incorporation of countries such as Venezuela which is destroying its own production and manufacturing sectors", added Felippo.
Regarding Argentina Felippo said "it does not respect signed agreements, it confiscates goods at its own pleasure and arrogance and to make things even worse the country is facing all kinds of demands the world over for not honouring debts".
Felippo then in contract praised Chile: "they said NO to Mercosur" and accepted to become an associate member "while it was out in the world looking for new free trade agreements which it now enjoys in full effectiveness with 59 countries".
"Because of this very intelligent and common sense decision Chile has access to the leading and most demanding markets of the world with a system of preferential tariffs" underlined Felippo and called on Paraguay to get closer and integrate with Chile by sharing production.
"The Chilean development way is the path for Paraguay, open economy, free markets and trade agreements with as many countries as possible; it's time to get out of the straight-jacket Mercosur has represented for the country", said Felippo.
Paraguay is currently suspended from Mercosur because of the removal of Fernando Lugo last June, following impeachment by the Senate supported by an overwhelming vote. However the regional block, as well as Unasur, described the action as "a rupture of the democratic process".