Victory for Cristina Fernandez: Federal Judge declares constitutional Media Law
Saturday, December 15th 2012 - 06:05 UTC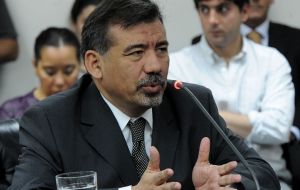 Argentine Federal Judge Horacio Alfonso declared that articles 45 and 161 of the controversial 2009 Media Law are "constitutional," and ordered the injunction that left the application of the law in suspense to be lifted immediately.
The Clarin media group which had benefited from the injunction announced it would appeal the ruling.
Last December 6, a ruling issued by the Civil and Commercial Court granted the extension of Clarín Group's injunction on Article 161 of the Media Law until the constitutionality of the law was decided.
The Law, intended to 'democratize' and make more transparent the holding companies of media interests has seen the administration of President Cristina Fernandez repeatedly clash with the Clarin group, Argentina's most powerful.
Article 161 obliges broadcast media licence-holders to adapt to new anti-trust rules established by the Media Bill within a year of the publishing of the law. Under these rules, individuals or individual companies would have to own a set maximum number of licences, or face divestiture of their assets.
The cap for open television was established at 35% of the covered market and for cable television, 35% of subscribers. There is also a limit for broadcasting licences: ten and 24 cable television licences and one satellite television.
According to a report from the Argentine Federal Audiovisual Communication services, the Clarin group will have to divest an estimated 200 cable television licences, radios and analogue television.
Judge Alfonso also annulled the special empowerment of the appeals court to work during the judiciary recess which means the Clarin appeal will be reaching the Court in February.
The ruling comes three days after the Prosecutor Fernando Uriarte declared the two questioned articles constitutional in a 67 pages statement.
"They do not infringe the constitutional property and commerce rights of the Clarin Group" adding that "no relevant arguments had been presented" referent to the alleged attacks on the independent media, invoked when the presentation of the unconstitutionality of the bill.
Prosecutor Uriarte added that Judge Alfonso had to decide on the heart of the matter, articles 45 and 161 objected by Clarin in five days time, that is before next Tuesday.