Argentine frigate expected back in Buenos Aires early January
Monday, December 17th 2012 - 06:45 UTC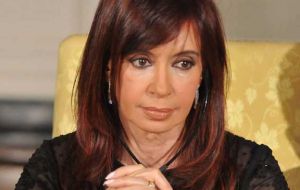 "Once more we fulfill our promise, the Frigate is coming back," was the first statement given by President Cristina Fernández over the ruling of the UN's International Tribunal for the Law of the Sea to release the ARA Libertad frigate.
Cristina Fernandez chose Twitter to speak about the ruling that ordered the release of the impounded frigate from the Tema port in Ghana and anticipated that on Tuesday a crew travels to Ghana to bring back the Argentine navy flagship.
"Not so long ago I said that, as long as I'm the President, no vulture fund will stay with our country's sovereignty and dignity," was the first tweet of CFK.
The Argentine president summarized the Court's decision to release the vessel and reminded that by December 22 it must have left the port.
Besides, she highlighted that the release includes the commander, the crew and the reconditioning of the vessel, and added that the country "must not offer a bail or guarantee."
The President also detailed that the crew that currently are in Argentina will travel on Tuesday to Ghana "to bring our Libertad frigate back to our homeland."
The vessel is expected to be back in Argentina by 9 January after a trip of 74 days, according to Defence minister Arturo Puricelli.