Chilean Justice Minister resigns over private universities accreditation scandal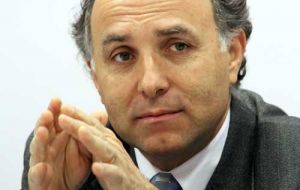 Chile's Justice Minister Teodoro Ribera resigned on Monday amid allegations he has ties to a former director of the country's accreditation committee, or CNA, which improperly authorized some universities to operate.
Ribera, who in 2011 replaced Felipe Bulnes when he moved to the Education Ministry, announced his resignation on live television. A member of President Sebastian Piñera National Renewal Party, Ribera previously was rector of Chile's Autonomous University.
Ribera is accused of having ties to former CNA Director Luis Eugenio Diaz, who is under investigation for bribery and allegedly using Ribera to try to get a family member admitted to the Autonomous University. Ribera on Monday denied allegations of wrongdoing.
Ribera who held the post for a year and a half came under heavy criticism also since the Santiago media revealed his family was partly owner of the Autonomous University.
Over the weekend Minister of Interior Andres Chadwick said president Piñera was evaluating the political reasons on the future of Ribera. This despite the fact Chadwick had supported the outgoing minister during most of last week as the scandal started to surface.
However, Ribera's fate was definitive when it was revealed that Diaz did not step aside when voting the accreditation of the Autonomous University, when at the same time he was an advisor of the Gendarmerie which depends from the Ministry of Justice.
Education, particularly universities is a highly sensitive issue in Chilean public opinion because of the high costs and difficult access to those families with medium income. Most universities in Chile are in private hands since the time of General Augusto Pinochet and allegedly are a good business for investors.
Tens of thousands have taken to the streets of Chile in the last two years demanding greater access to higher education, improved quality and more funds for public schooling. The ongoing protests have reflected in plummeting support for President Piñera despite a healthy and strong economy.
Chile which is a member of OECD and excels in several economic standards is ranked lowest of all in education issues with strong recommendations to improve the system considered unfair and highly selective.