China quarantines Argentine corn because of unapproved genetically modified strains
Monday, December 17th 2012 - 06:20 UTC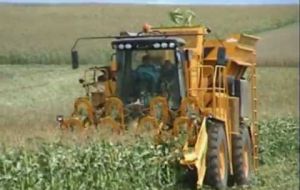 Chinese authorities quarantined two containers holding corn from Argentina, after detecting genetically modified strains that had not been approved beforehand, alleged the Chinese buyer.
China imported 4.56 million tons of corn in first 10 months of 2012, with 99% coming from the US, the largest corn exporter in the world.
An unidentified Chinese government official said they had bought the small volume as a test, and as of yet imports coming from Argentina have not been successful.
Chinese corn imports are expected fall by more than half next year due to high US prices, and a rise in overall consumption will put domestic supplies under more pressure despite another record harvest, according to an official forecast on Wednesday.
The China National Grain and Oils Information Centre (CNGOIC) said imports by the world's second largest corn consuming nation are expected to fall to 2.4 million tons in the 12 months ending in September 2013, down 54% on the year, after a drought-driven price surge caused a halt in purchases from the United States.
Meanwhile, consumption was expected to rise 9.6% to 205.6 million tons as a result of an expansion in hog herds. China's domestic corn harvest rose 8% this year to a record 208.13 million tons.
CNGOIC said China was unlikely to import any corn at all until April 2013, depending on domestic and overseas prices.
The worst drought in decades in the United States, the world's top exporter, has driven up US corn prices, which are around 4% higher than domestic corn prices quoted in the southern city of Shenzhen.
Domestic corn prices weakened after the record harvest, and corn processors have kept production relatively low as a result of poor sales of downstream products such as starch and alcohol.
China has imported corn from Argentina and Ukraine on a trial basis during the year, CNGOIC said. A Chinese feed mill in the northern province of Shandong has bought 48 tons of Argentina corn.