Argentine government begins process to dismember Clarin media group
Tuesday, December 18th 2012 - 06:00 UTC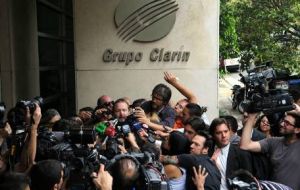 Argentina's government Monday began the process of auctioning off media licenses and related assets held by the media conglomerate Grupo Clarin SA. The move, which government officials say should take about 100 business days to complete, comes after a lower court judge ruled Friday that a three-year-old media law requiring Clarin to be dismantled is constitutional.
"We notified Clarin that the auction process has begun. The law is constitutional, and it is in full effect," said Martin Sabbatella, who was appointed by Argentine President Cristina Fernandez to enforce the law.
Earlier Monday, Clarin appealed the ruling to a federal appeals court. In a statement, Clarin accused the government of violating other court decisions by starting the auction process.
Clarin noted the same federal appeals court recently said the company would have one year to comply with the law even it were found constitutional. Clarin also said that because it appealed the ruling, the decision automatically would be suspended until it has been confirmed or rejected by a higher court.
Marcela Basterra, a constitutional law professor at the University of Buenos Aires, said the government's action Monday was primarily political.
"The government is doing this for political reasons because, legally speaking, it has to wait for a decision on this matter from the appeals court before it can act," Mrs. Basterra said. "In reality, this case is going to end up in the Supreme Court, and only then will it be resolved."
Mrs. Basterra said the lower court's ruling isn't binding because it has been appealed. She said the Supreme Court eventually will have to decide whether the law is constitutional and how much time Clarin has to comply with it.
"The majority of constitutional scholars think the one-year period will come into effect only if the law has been definitively declared constitutional by the Supreme Court," she said.
Mr. Sabbatella disagrees and has said repeatedly that the one-year divestment period has expired already, meaning the government is right to enforce the law immediately.
Monday's developments are the latest in an intense and public battle between Clarin and President Cristina Fernandez, who accuses the company of being a coup-mongering monopoly that tries to topple her government.