IMF board to consider Argentina's stats case at the end of January
Tuesday, December 18th 2012 - 03:56 UTC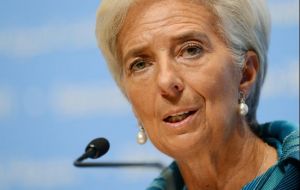 The board of directors of the International Monetary Fund will again meet at the end of January to debate Argentina's improvement in the quality of its official economic index, IMF spokesman announced on Monday.
The IMF Managing Director, Christine Lagarde sent a report on Monday stating Argentina's answer over the IMF concerns about its inflation and economy growth data, which are questioned by multilateral and private agencies.
Lagarde's report was not released, and there were no comments about it at the IMF, the Director of the External Relations Department, Gerry Rice, stated in a communiqué.
"I expect this report will be given due consideration by the Board sometime in late January'," Gerry Rice, the director of the IMF external relations, said in an emailed statement. "The fund has no further comment on the report and its contents at this time."
The head of the Fund could recommend the directors' board to issue a "censorship declaration" against Argentina due to the lack of improvement in its indexes. The board could accept this petition, or decide to grant time to Argentina to comply with the international criteria in its indexes.
Anyhow Argentina could be on track to be the first country ever censured by the IMF for not sharing accurate data about inflation and economic growth under a procedure that can end in expulsion from the IMF.
The board in September called on the government to implement remedial measures "without delay" and asked Managing Director Lagarde to inform directors on progress by Monday 17 December.
President Cristina Fernandez has denied any wrongdoing even as the government's official figures have been disputed by the IMF, economists and politicians since 2007.

That's when her late husband and former President Nestor Kirchner replaced senior staff at the statistics institute, known as Indec. Since then, Argentina has reported average inflation of 8.8% a year, versus a 23% estimate by private economists.
The official inflation rate of 10.6% in November, less than half the private estimates, has enabled Argentina to save about 6.8 billion dollars since 2007 on debt payments.
The IMF announcement in practical terms gives Argentina an additional couple of months to address the issue.