Organized labour challenges Cristina Fernandez with a demonstration on Wednesday
Tuesday, December 18th 2012 - 22:37 UTC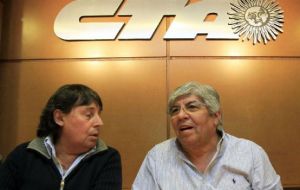 Argentina' so organized CGT Labour Confederation boss Hugo Moyano, and CTA umbrella union leader Pablo Micheli confirmed on Tuesday a downtown march against the government of President Cristina Fernandez on Wednesday.
Both unionists explained the march is the result of the lack of responses from the government after the past November 20 national strike in which unions demanded better salary conditions, a restructure of the income tax floors and the reactivation of the national industry.
In company of Micheli and Moyano, was Argentine Agrarian Federation head Eduardo Buzzi who confirmed the presence of farmers for Wednesday's rally.
"We call for a march since the national government has not listened to any of the people's demands made on November 20. Furthermore, the very same President Cristina Fernández disqualified both of us and the claims we made", said Micheli.
"The President called us thugs in what was a clear violent comment. We were only defending the workers' rights," Micheli remarked.
Moyano also warned that any incident that takes place during the demonstration scheduled to take place at Plaza de Mayo "will be the responsibility of the National Government."
"The National Government will be responsible for any incident that distorts these protests, that much is clear," Moyano stated next to CTA's Micheli.
The teamster also praised the fact that the opposition Radical party had decided to support the demonstration.
"We have the support of the Radical party, who joined us today through the organization of radical workers. We have also been supported by the Federal Peronism, from people in the Greater Buenos Aires areas who have decided to join us because they see this as an expression of the people," he added.
At the same time, Micheli added that "they will make sure that no incident takes place so nothing can disturb what is expected to be a peaceful demonstration".