Brazil plans large-scale anti crime border operation ahead of soccer Cups
Wednesday, December 19th 2012 - 06:23 UTC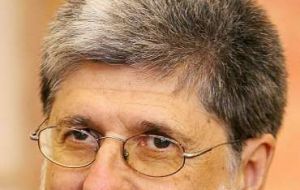 Brazil said on Tuesday its armed forces would launch a large-scale anti-crime border operation next year ahead of the Confederations Cup and the World Cup in 2014.
Operation Agata will involve some 20.000 personnel from the navy, army and air force shortly before the Confederations Cup, a mini dress rehearsal for Brazil's 2014 World Cup, gets under way next June.
Defence Minister Celso Amorim said the seventh edition of Operation Agata would be timed so as not to interfere with the anticipated large influx of tourists.
The objective of the exercise is to curb illegal trafficking in arms, drugs and goods along Brazil's extensive borders.
Operation Agata is part of a strategic border control plan announced by President Dilma Rousseff in June 2011. The new Agata operation will be mainly 'dissuasive' said Amorim who revealed that in previous deployments 20 tons of explosives, 11 tons of narcotics and tens of weapons were confiscated.
Brazil has 16.000 kilometres of borders with Argentina, Bolivia, Colombia, Guyana, Paraguay, Peru, Suriname, Uruguay, Venezuela and French Guiana.
Eight continental champions will take part in the Confederations Cup tournament, to be staged in six Brazilian host cities from June 15 to 30.
On Monday Brazilian president Dilma Rousseff was the first person to kick a football at a ceremony held in the new Castelao Arena stadium at the northeast city of Fortaleza. The Castelao Arena, with a capacity of some 65,000, was renovated at a cost of 250m dollars.
Castelao and Rio do Janeiro's iconic Maracana are among six venues that must be ready to host Fifa's Confederations Cup next June.
Ms Rousseff said the inauguration of Castelao and the success of Sao Paulo football team Corinthians in the Club World Cup final showed Brazil was able to perform off and on the pitch.
Next week, the Minerao Stadium in Belo Horizonte is due to be opened, after a complete refurbishment.