Brazil wants closer links with Mexico; Rousseff plans to travel next March
Wednesday, December 19th 2012 - 06:50 UTC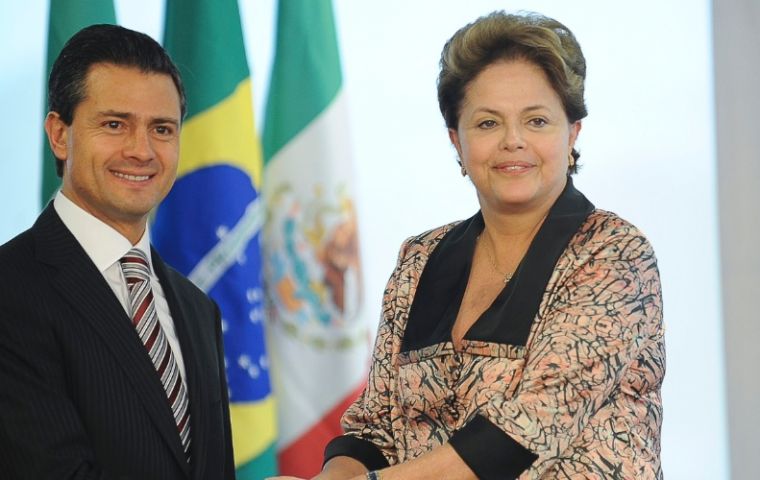 Brazilian president Dilma Rousseff is planning to visit Mexico in early 2013 taking advantage of the good chemistry with the new leader Enrique Peña Nieto, and with the purpose of re-launching the deteriorated relations between the two main economies of Latinamerica.
And the big excuse for the approach is Petrobras, the Brazilian oil and gas giant with strong private participation and which has been a success in discovering and developing hydrocarbons offshore. This capacity could turn Brazil into one of the world's leading oil producers and exporters in a few years time.
Executives from Mexico's petroleum giant, Pemex are fascinated with the success of Petrobras as a model for their own country and wish to continue on the first collaboration steps planted by Peña Nieto and Rousseff when the then elected president visited Brazil last September.
"Peña Nieto caused a very good impression in Brasilia", said diplomatic sources and "President Rousseff is travelling to Mexico probably next March"
The trip should also help to make the ups and downs relation more fluid, particularly since the early 2012 spat when Brazil imposed import quotas on Mexican manufactured vehicles in an attempt to contain the bilateral trade deficit.
Making the relation with Mexico more solid is very attractive for Brazil which has seen its economy stall with an annual growth of 1% in 2012, despite all the stimuli, and a deteriorating relation with Argentina, that has become the main market for Brazilian manufacturing.
Brazil is trying to tone down its protectionism with Mexico and last September in private talks the Rousseff administration said it was willing to discuss an expansion of the auto quotas. But there are also practical reasons since the cap was unable to contain the trade deficit with Mexico, which in the first ten months of this year has soared to 1.8bn dollars, particularly attracted by the high selling Mexican Ford Fusion of which President Rousseff has one.
The Brazilian auto industry is complaining that in the first seven months of the year the full twelve months Mexican quota has been used up but cars keep coming in despite a 35% tariff.
However despite Brazilian optimism things could not be that easy since the Mexican business community is distrustful of Brazil following what happened with the car agreement and also believe it is a "country with a far too closed market".
"I believe it makes sense to have certain scepticism" said trade consultant Luis de la Calle who was one of the negotiators of the free trade treaty with the US and Canada. "The good chemistry is positive because without it you can't advance but at the end of the day it all comes down to each country's interests, and what is best both for Brazil and Mexico is a far more open trade relation".
The president of Mexican businesspeople in Brazil, Eduardo Ragasol said that the Peña Nieto/Rousseff relation is full of good signals, such as the approval in record time of the new Mexican woman ambassador in Brazil. "But it's too early to know when all this will materialize in concrete investments".
Mexican corporations have been far more aggressive: millions of Brazilians use Claro cellular phones and watch television on the NET cable system from Mexican tycoon Carlos Slim; they have breakfast with Bimbo toasts and have soft drinks bottled by Femsa, all Mexican businesses.
Brazilians on the other hand have been rather shy but could see a turning point in 2015 when Braskem begins to build a huge petro-chemical complex in Veracruz, with an investment of 3.5 billion dollars.
But for bilateral trade to keep advancing with a quality leap, some kind of agreement is needed according to analysts. Given the complexity of the relation cooperation between Petrobras and Pemex could be a starting point.
In one of his latest statements Peña Nieto advanced he wants Pemex to work with strategic associations that includes the private sector following on the experience collected by Petrobras in Brazil.