Falklands owned new wind farm to supply Mount Pleasant Complex
Wednesday, December 19th 2012 - 20:37 UTC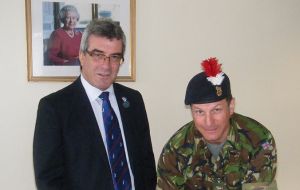 The Falkland Islands Government Chief Executive, Keith Padgett, Commander British Forces, Brigadier Bill Aldridge and Paul Wilson from the Defence Infrastructure Organisation have signed a Memorandum Of Understanding (MOU) for the construction of a new wind farm at Mare Harbour.
The MOU between the Falkland Islands Government (FIG) and British Forces South Atlantic Islands (BFSAI) gives the go-ahead for the construction of a FIG-owned and operated wind farm at Mare Harbour. The new wind farm will provide renewable energy to MPC thus reducing its reliance on fossil fuels.
The agreement is a significant localisation initiative and serves to highlight the increasingly close economic and environmental cooperation between FIG and BFSAI. The agreement covers the provision of clean energy to MPC for at least the next fifteen years and represents an important cost-saving measure for the MoD.
The three wind turbines that comprise the 'farm' are to be purchased from a German manufacturer with the components being shipped down and constructed on-site. The electrical power generated will then be sold on to MPC enabling the site to reduce its reliance on imported fuel and associated carbon footprint.
Brigadier Bill Aldridge said, "I see the signing of this agreement as one of the major achievements of my time here and underlines our commitment to the sustainable future of the Falklands."
Gavin Short, Member of the Falkland Islands Legislative Assembly said, "I am delighted to see the MoU signed, as this will allow the project to start in earnest. The Falkland Islands Government is committed to the sustainable and responsible management of the Islands, and this project is an excellent example of how we can work alongside the MoD on projects of mutual benefit".
The Falkland Islands have experience in wind power since for several years now they have been running a wind farm which at peaks generates 40% of the power consumed in