Buenos Aires sends Border guard to contain rioting and looting in Bariloche
Friday, December 21st 2012 - 00:12 UTC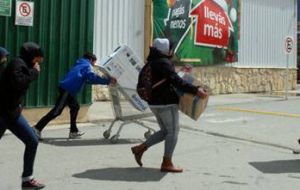 The Argentine government is deploying four hundred border guards to the Patagonian resort of Bariloche following violent looting in several local supermarkets and other businesses on Wednesday. Cabinet Chief Juan Manuel Abal Medina made the announcement on national television.
Earlier in the day dozens of masked people armed with sticks and stones broke into two supermarkets in the Argentine Patagonia resort of Bariloche after claiming food and goods for Christmas unleashing riots and looting.
First reports say the attackers, mostly adolescents, arrived from neighbouring shanty towns and turned the places over looting food, alcohol but also appliances and LED TVs. When police forces arrived they were received by a hail of stones from looters that were protecting those running away with the loaded supermarket carts.
The Wednesday looting that started at a supermarket belonging to Wal-Mart rapidly extended to other poor areas of the posh resort while outnumbered police fought back with batons and rubber bullets. However the municipality said they had not enough personnel to control the situation.
The targeted Changomas is located next to 'Nuestras Malvinas', one of the poorest areas of Bariloche and at first there was a dialogue between the attackers and the supermarket personnel, which was prepared to hand out Christmas baskets as had been suggested by local authorities days before.
However the situation rapidly deteriorated and the masked adolescents broke in and started looting. In what seemed an organized attack, women, even with children went after food, the men alcohol and teenagers for appliances and LED TVs, bicycles and brand clothing.
The lack of immediate police reaction and local politicians fears of 'repression headlines' encouraged a greater group to again march on the supermarket and this time some parked cars were set alight. Likewise the hordes marched on to other businesses, mini-markets, and butcher and bread shops in the area. Apparently the looting pattern was similar, mainly with the adolescents doing the breaking in and protection of those fleeing with the full carts.
Although the incidents came as a surprise there had been insistent rumours that something was brewing. Kirchnerite Mayor Omar Goye had been warned by members of other shanty towns and he suggested supermarkets hand out Xmas baskets to families to cool the situation.
San Carlos de Bariloche Town Hall's Secretary Oscar Borchici told reporters "We always hear rumours indicating lootings could happen, but this is totally insane. Plus, I don't understand why they need to take LCD TVs."
Bariloche is still recovering from last year's volcanic ashes that covered wide areas of Argentine Patagonia, killing half a million sheep and frustrating much of the 2011 winter season. In effect Bariloche was isolated by air for months and the federal, provincial and city governments distributed social programs. However these programs are coming to an end and the slum dwellers had warned about the consequences.
A few months ago the local indigenous population tried to pull down the statue of General Roca in downtown Bariloche who the Mapuches consider guilty of genocide against their ancestors.
Furthermore relations between the police and residents of shanty towns are complicated following the killing of three adolescents in 2010 during demonstrations that ended in bloody clashes with security officers.
"The situation is very serious; we are not in total control yet, and we haven't been able to identify the groups or the organizers of all this vandalism. We are investigating and although all supermarkets in the area have closed for the rest of the day at this moment I can't give a clear idea of the situation", admitted Borchini on Wednesday evening.