Rioting and looting because the President is out of touch with the people, says Moyano
Saturday, December 22nd 2012 - 08:15 UTC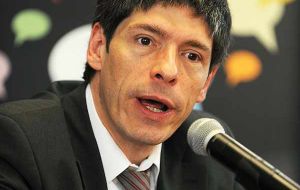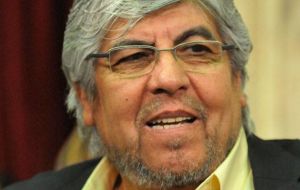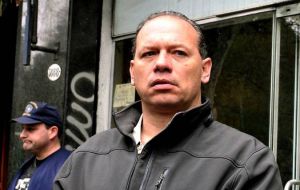 Argentine dissident organized labour leader Hugo Moyano claimed on Friday that President Cristina Fernandez is out of touch with the people and "the lackeys she has are scared of her and can only say stupid things". Moyano's strong words followed accusations by the government that he was behind the extended rioting and looting that hit several Argentine cities on Thursday and Friday.
"I think the president is out of touch. She sends these blokes to say a lot of stupid and idiotic things. The government can't pretend to be serious with these lackeys", underlined Moyano without naming any official but in direct reference to cabinet chief Juan Manuel Abal Medina and Security Secretary Sergio Berni whom he described as a "devalued Rambo".
The teamsters boss said that the government's officials were a pack of 'bigmouths' that can only repeat stupidities and this is because "the government has no answers, no replies so it then tries to play the role of the victim and accuses the workers"
.
"These officials are acting as in the time of military dictatorships. They accuse whoever they please and invite people to come and bash us. They are provoking people into violence, when in reality teamsters are victims because many of our lads had their cargoes stolen and were also beaten", insisted Moyano.
The teamsters' leader pledged that "these gentlemen will have to repeat what they are saying before court. They are constantly accusing and disqualifying the workers and the official media are scaring the people to make them think that we who represent workers are responsible for what is going on".
"The Government created the conditions for the lootings, not workers" underlined Moyano.
Earlier on Friday Cabinet Chief Abal Medina said that the supermarket lootings and widespread violence in several cities across Argentina were linked to anti-government union leaders Hugo Moyano, Pablo Micheli and Luis Barrionuevo.
"In Campana, there is someone linked to the Teamsters union" stressed the cabinet chief during a ceremony at the Government House. "Violent people do not rest and seek to keep on putting a spoke in the wheel," he added.
Berni in Bariloche, (where the looting started on Thursday) with 400 Border Guards patrolling the Patagonian resort said that the looting was 'organized' and 'respond to political issues', and then linked them directly to the dissident unions and their leaders such as Moyano and Pablo Micheli.
"They are isolated incidents clearly organized which attempt to distort social peace, and spoil the great moment Argentina is living" said Abal Medina who added "nobody was after food: they were after plasma TVs, LCD, electrical appliances and drinks".
Asked to be specific about those responsible for organizing the incidents that spread to several provinces and major cities such as Rosario and metropolitan Buenos Aires, Abal Medina said that "the government of Neuquen pointed out to dissident groups from unions and other governors told us they had seen sectors linked to teamsters and the gastronomic union in the incidents".
"We're talking of people who clearly have political intentions", affirmed Abal Medina.