Uruguayan famous striker holds football training camp in the Falklands
Saturday, December 22nd 2012 - 20:07 UTC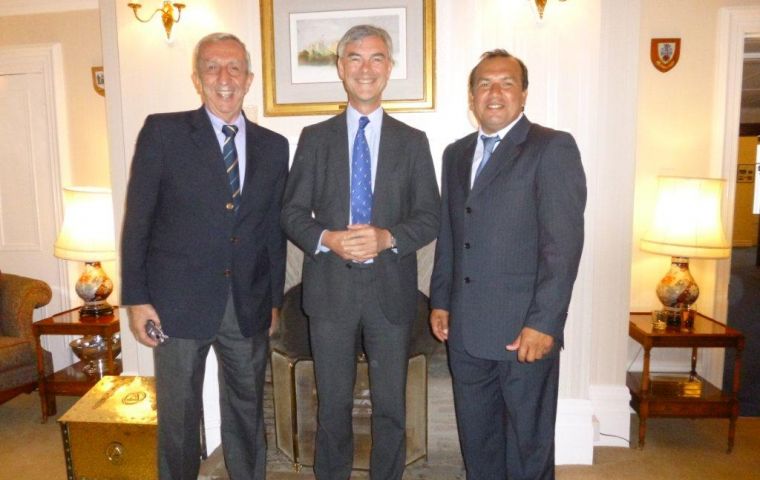 Footballers both young and old, in the Falkland Islands have had the opportunity and rare privilege this last week of being coached by one of the game's legends.
Once regarded as one of the best strikers in Europe, who could shoot, volley, dribble, create and pass with precision, Ruben Sosa played for a succession of top clubs in Spain, Italy and Germany, in the eighties and nineties before returning to Uruguay in 2003 to round of his playing career with Nacional, for whom he now coaches.
At the beginning of his career in 1982, when he was fifteen years of age, Rubén Sosa was one of the youngest players ever to play in the Uruguay First Division.
Four years later, after transferring to Spain, he was part of the Real Zaragoza team which won the Copa del Rey and scored in the final against Barcelona.
With Italian team, Internazionale, Rubén was that club's leading goal scorer in the 92/93 and 93/94 seasons, helping them to win the UEFA Cup in 1994.
Further European honours came in the 1995/6 season with German club, Borussia Dortmund, when they won the Bundesliga with Rubén's help.
Returning to Uruguay, Rubén collected more winners' medals as his club Nacional won the Uruguayan League Title with his help in 1998, 2000 and 2001.
Mr Sosa was also part of the Uruguayan national team which won the Copa América in 1987 and 1995 and played in the World Cup in Italy.
Accustomed as we have become to the tantrums on and off the pitch of some of today's millionaire football super stars, it was refreshing to meet Mr Sosa, whose enthusiasm for the game which has been his life's passion is infectious, as his enthusiasm for coaching the footballers of tomorrow with his own school, the RS Escuela de Fútbol..
In Stanley, accompanied by one of Uruguay's most famous sporting journalists, Mr Toto de Silviera, who was present in 1996 when England beat Germany to win the World Cup, Rubén Sosa has been holding a series of football workshops for school children and also for the Falkland Islands team, which culminated last Friday afternoon in a match between children and their dads.
Asked how he found the young Falkland Islands players, Ruben Sosa, who has run football training camps for young players in the USA as well as Uruguay, said that he had not expected there to be so many young players in such a small community.
He was impressed by their keenness to learn technique and to do things correctly, but felt that the older group of 13 to 15 year olds lacked a bit of the fun of the younger groups: 5-9 and 10-12. For him, soccer was about passion, but also about having fun.
With regard to the senior players, Rubén said that he had been working with local coach Ian Betts on their physical state and had been demonstrating ways of increasing their fluidity of physical movement.
Ruben Sosa said that he was aware of the long-standing historical links that existed between the Falkland Islands and Uruguay and hope that his visit, which was sponsored by the Falkland Islands Government with the assistance of the British Embassy in Montevideo, would help these links to continue. (PN).-