Ecuador's Correa prepares for re-election: increases minimum salary 9%
Wednesday, December 26th 2012 - 05:54 UTC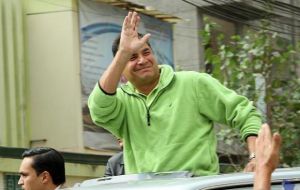 Ecuadorean President Rafael Correa announced a 9% increase in the minimum wage for private-sector workers for 2013, a move that may help consolidate his February re-election bid that polls broadly show him favoured to win.
The populist Correa, who has won strong popular support for a range of measures including expanding access to health care and improving roads and highways, hiked the minimum wage to 318 dollars per month from 292 per month.
Correa wants the minimum wage eventually to reach a "dignified salary" of 368 dollars per month that would be on par with the cost of basic goods, including groceries, clothing and school fees.
He has gradually raised the minimum wage during almost six years in office and insists companies should not report profits while workers are not making enough to cover basic expenses.
Polls show Correa leading the Feb. 17 vote by as much as 30 percentage points over the nearest rival, although campaigning does not officially start until January and public opinion is famously volatile in Ecuador.
Ecuador together with Venezuela, Bolivia, Nicaragua and to a certain extent Argentina make up a regional block of populist regimes which implement strong intervention of the government in the economy and practice a certain degree of authoritarianism in political decisions.
The natural leader of the group is Venezuela's Hugo Chavez, but given his health condition, there is speculation that the charismatic Correa could fill his absence.
Ecuador adopted the dollar as its currency following a 1999 financial crisis.