UK Parliament addresses disruption of Falklands' shipping and tourism by Argentina
Wednesday, December 26th 2012 - 06:16 UTC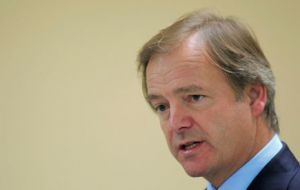 The disruption of shipping and tourism in Argentina and the Falkland Islands reached the British Parliament and was addressed by Foreign Office officials who said the UK regrets the Argentine attitude but is also holding talks with international partners that share concerns about illegitimate interferences, and with the cruise industry.
On Thursday 20 December, last day before recess, MP Andrew Rosindell asked Secretary of State for Foreign and Commonwealth Affairs Hugo Swire what recent discussions he has had with the government of Argentina on reports of actions in ports in that country affecting the Falkland Islands cruise ship industry.
Mr Swire said "the British government deeply regrets that elements in Argentina have recently taken action aimed at disrupting cruise ships that visit the Falklands. We condemn unequivocally any efforts to intimidate companies from pursuing their lawful business. My officials have discussed these issues, and the wider issues affecting shipping, with Argentine officials on two separate occasions and on 3 December 2012 when we summoned the Argentine ambassador to the Foreign and Commonwealth Office. The ambassador is in no doubt about our strength of feeling on this matter.
"We are also in discussions with international partners who share our concerns about these illegitimate efforts to interfere with shipping and tourism in the region, and we remain in contact with the cruise ship industry. I understand that Carnival UK, having failed to receive assurances that its ships will not be disrupted in Argentina, has been forced to drop Argentine ports. They are the third cruise line to cancel calls on Argentina. Carnival UK will however continue to call at the Falklands, and we hope that others in the industry will similarly refuse to bow to blackmail, which is designed only to damage the economic well-being of the Falkland Islands' people.
"It is unfortunate that such actions by groups within Argentina, which have yet to be condemned by their Government, have not only prevented thousands of passengers from visiting Argentina, but have also harmed the livelihoods of those working in the Argentine tourism sector. The British Government continues to encourage all those in Argentina to allow cruise ships to travel without threats or hindrance".