CFK blames looting and violence on political and union groups interested in destabilization
Friday, December 28th 2012 - 07:39 UTC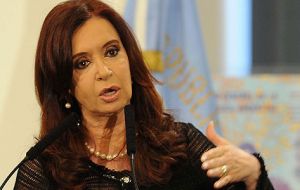 Argentine President Cristina Fernández said on Thursday evening that the looting and ransacking of supermarkets that killed four people last week were provoked by "political and union sectors" to destabilize her Government.
"What they tried to do was a decadent version, a cheap copy of what happened in historic moments of the country. This has happened before: looting, violence and destabilization of a Government with a history" she emphasized during a speech at Government House.
The Head of State urged those who are against her administration "to protest in peace, respecting the rights of citizens, without robbing store owners" and "to form their political parties and win elections" but not taking advantage of the needy or the marginalized.
"There are sectors that were not able to gather votes so they have to resort to do this. What happened is a parody of December 19 and 20 back in 2001, when the country was actually on fire. And they tried to do the same in a completely different political scenario" said Cristina Fernandez.
"Let's suppose that we did not create jobs, that we did not have the universal child allowance or that we did no hand out notebooks … Did you see this happening in any other part of the world? No. People protest because that is a legitimate tool, but looting and the grouping between political and union sectors with poor people has nothing to do with politics or Peronism," she added.
Cristina Fernandez then made a quick overview of similar looting and rioting in recent years since the country returned to democracy.
"There is an instructions booklet for looting, violence and destabilization which has several years' history and the first chapter was at the end of the government of then President Ricardo Alfonsín", said the Argentine president.
"With Alfonsin the involved were political sectors and the Peronist Party, we all know that", admitted the president who then added that the episodes of December 2001, "leaving aside the errors and horrors of police repression, it was evident that there were organizers behind the violent protests".
And something similar was attempted on this opportunity but in a social and political scenario which is completely different from then and "even if we had a situation such as in 2001, looting is not spontaneous. It is the articulation of political and trade union sectors with violence".
"Maybe they think this way they can win elections. They have a right to protest but peacefully without trespassing or abusing rights, and to make it even easier they can organize a political party", said Cristina Fernandez.
This was the first time the head of state talked about the looting and rioting that extended to several provinces and the main cities of Argentina last Thursday and Friday. She spent Christmas with her family in Santa Cruz, but was briefed extensively on the incidents.
Cristina Fernandez also called on provincial governors regarding law and order. "Having to send the Gendarmerie from one place to another despite the fact that governors have their own police forces is something that needs re-thinking".
In related news also on Thursday the Criminal Cassation Court confirmed a stay of proceedings on ex-president Fernando De la Rúa over the siege incidents that took place in December, 2001 that saw 30 people die.
The court ruled unanimously that you cannot try to make someone responsible for someone else's behaviour, when it has been proven that the person was unaware of the alleged power abuse that his inferiors had incurred during the siege.