Argentine government wants to lift court recess to continue battle with Clarin
Thursday, January 3rd 2013 - 20:00 UTC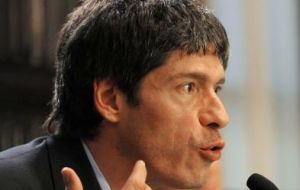 The Argentine government sent a request for the Federal Civil and Commercial Court to re-open the justice system in January, a month in which it is normally on holiday, in order to resolve two key articles regarding the controversial Media law.
The presentation was made by Cabinet Chief Juan Manuel Abal Medina, with the sponsorship of the Treasury's Prosecutor-General, in addition to the counter-claim filed last week by the Federal Authority of Audiovisual Communication Services (AFSCA).
The objective of the move is to ensure the prompt resolution of the suit presented by the Clarín group against the Media law.
The court rehabilitation request was made after the Supreme Court rejected the per saltum sought by the administration of President Cristina Fernandez to bypass the appeals process in the case of the constitutionality of two articles of the law, and at the same time confirming the extension of the preventive measures that blocks the group Clarín divestment law.
The Argentine Supreme Court ordered the chamber to "move quickly" on the judgement but did not give them a fixed period.
The Clarín Group's appeal provided a further obstacle to the implementation of the new Media Law, leaving the issue in the hands of the court, which already ruled the suspension of the divestment law, while its constitutionality is being debated.
The judges who will head the court handling the case are Francisco de las Carreras, Ricardo Guarinoni and Graciela Medina.
If the government request is accepted, the Clarín Group must present its case for appealing Judge Alfonso's ruling, where they will have 10 working days to answer.
Judicial sources, however, doubted that the chamber will accept the government request since the Supreme Court had denied the use of per saltum and supported the injunction without fixing a time period for the case to be resolve which would have given urgency to the judicial process.
President Cristina Fernandez is obsessed with dismembering the Clarin group which is Argentina's main media consortium with interests in broadcasting, cable television, open television and the press. Originally allies the Kirchner couple and Clarin split over the 2008 farmers' conflict and soccer broadcasting.