German Bolivarian ideologue anticipates 'dual succession' in Venezuela
Thursday, January 3rd 2013 - 21:34 UTC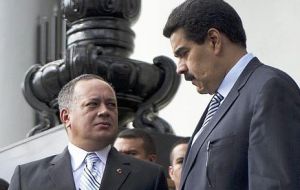 German sociologist Heinz Dietrich considered one of the ideologues of "XXI century Socialism" which was adopted by the Bolivarian movement, said in an interview with the Brazilian newspaper O Estado de Sao Paulo that Venezuelan President Hugo Chavez is not returning to office
"We can certainly say, and this is the crucial information, that Chavez will not make it back to the presidency in Venezuela" according to Dietrich who nevertheless does not anticipate instability since the majority of the population want order and peace. "Even the main leaders of the opposition, basically Henrique Capriles (who lost to Chavez in the October presidential election) have understood this".
Dietrich who currently lives in Mexico and was one of the intellectuals who most supported the Chavez government and policies but later split from the movement, anticipated that Diosdado Cabello a retired Army officer and president of the National Assembly is a 'dangerous character'.
"Cabello lost the battle for the succession with (Vice-president) Nicolás Maduro but continues to have strong support, and the most probable scenario is that Cabello and Maduro continue for some time with a tactic alliance", Dietrich anticipated to the Sao Paulo daily.
Dietrich argues that because of the delicate health situation of the Venezuelan leader a time of "Chavism without Chavez" is coming which means "a government under the helm of Maduro and as Maduro consolidates and Chavez weakens, he could begin implementing changes to the model".
And in case there are fresh elections "the opposition can't win because it is divided and has no convincing government project, and needs urgently to move to centre positions; Capriles started this process but still needs several years to win credibility", added the German intellectual.