Unprecedented: Ecuador's Correa on a month's leave to campaign for re-election
Thursday, January 3rd 2013 - 20:18 UTC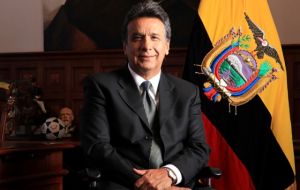 Ecuador's Congress voted overwhelmingly Wednesday to grant President Rafael Correa a month-long leave of absence while he campaigns to be the first Ecuadorean leader in more than a century to hold the presidency for more than a single term.
Ecuador limited its presidents to single terms in the 20th century until the charter was changed in 2008 to allow re-election, a move that benefited the populist Correa.
Correa said handing his job over to Vice President Lenin Moreno starting January 15 shows how far he's willing to go to support democracy and avoid abusing his presidential powers ahead of the February 17 vote. "I don't have to do it, but I prefer to avoid any suspicion," Correa told Congress.
However political opponents are not so sure: "The official publicity will continue. Correa can use state resources and there will be no balance with respect to other political parties" predicted members of Congress.
Ecuadorean political scientist Jorge Leon said Correa will still be president, even if his No. 2 is nominally in charge.
"He can use his security forces, transportation and other state resources because he remains in his role, and all the government infrastructure still holds," Leon said. "A leave gives him more freedom of movement, because he can dedicate all his time to being a candidate, show that he can win without being in the presidency and support his political party. This is an advantage."
Correa's leave appears to be unprecedented among world leaders, according to Freedom House, a Washington-based group that promotes democracy and human rights internationally.
"I certainly can't recall off-hand another example of turning over the reins to what amounts to a trusted deputy in order to hit the campaign trail," said Robert Herman, the group's vice president for regional programs.
"Of course, with a rubber-stamp legislature he can do what he pleases and the actions have a patina of legitimacy," Herman said. "There's a context here, which is a steady decline over the last several years of the level of political rights and civil liberties, a shrinking of the space for dissent, and more and more pressure on his political opponents and members of the civil society who have been struggling to hold Correa accountable. People will see it for what it is: an increasingly authoritarian rule by a democratically elected president".