Argentina implements strict rules and controls on the soccer industry
Friday, January 4th 2013 - 22:09 UTC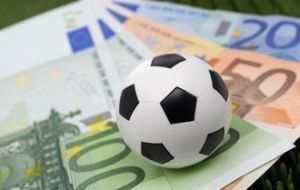 Every soccer team from the Argentine First and Second Division will as of this week have to open a bank account where they will deposit the total sum of money generated from soccer player transfers. Financial rights will now solely belong to the entities involved.
These measures were announced by Argentina's AFIP tax agency head Ricardo Echegaray, who presented to the press a number of measures in order to make the soccer players market more transparent.
The objective of Resolution 3432, which will becomes with its publication in the Official Gazette, is "to reverse the current local soccer situation, where clubs are under the control of businessmen and agents," said Echegaray during the press conference at the AFIP headquarters in Buenos Aires.
Echegaray explained that the national government intends to ensure that "soccer clubs are the main actors," and to "heal" the soccer market by reducing tax evasion.
In order to achieve this aim, for tax purposes, financial rights will be solely owned by the clubs, which will also act as withholding agents for income tax in the soccer transfer operations.
A soccer agents register will be created, where clubs will have to give the names of those athletes they represent their contracts and inform the earning obtained, and another register will be created for "soccer businessmen."
Regarding the players' financial rights, Echegaray said that the measure "seeks to delimit" what he calls "21st century slavery," through which one or more people are owners of a soccer player.
"A businessman no longer owns a person," said Echegaray, adding that these types of investments in people "will have to be done through hedge funds" created by the clubs.
The AFIP director said that the fact the financial rights stay in the hands of the soccer clubs means that the transfer payment will be made through them.
"The funds must go through the soccer institution, no matter what," and through the bank account open for this purpose.
Echegaray said that currently soccer clubs every week have to notify AFIP about their soccer squad.
"The new measure maintain this obligation, but creates a registry for the agents and another for soccer businessmen," said Echegaray, adding that this will complete the cycle of necessary information.
"This means that when a transfer price is found to be unreasonable, the agency can determine a value based on the market prices," said Echegaray, adding that this could lead to AFIP suspending the Individual Tax Code (CUIT) of those "businessmen" involved in the operations.
The measure understands by "soccer businessmen" those who invest in soccer player's financial right and "then obtain a profit from the player's transfer.