Chile government spending rate below the economy's performance for second year running
Tuesday, January 8th 2013 - 06:58 UTC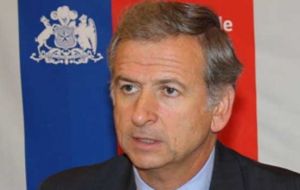 Government expenditure in Chile expanded an estimated 5% last year while the economy grew 5.5%, making it the second consecutive year in which the economy outperforms outlays.
"These are preliminary data but it all indicates that for a second year running expenditure was below growth rate, which is quite an achievement in this turbulent world", said Finance minister Felipe Larrain.
The minister added that between 2010 and 2012 the Chilean economy expanded at a rate of 5.9% which is one percentage point above government expenditure in that period.
Larrain said that he released the data, which could suffer some very minor adjustments to contain some market analysts' estimates indicating that government expenditure last year expanded 7%, "which is totally contrary to our data and what can be easily perceived".
Nevertheless "growth in government spending during 2012 was in the framework of a more stable context than in previous years", said Larrain.
"In 2012 we were able to implement government spending in a softer manner, with no major alterations" insisted the Chilean minister who said that advancing "this valuable data will enable to contain inflationary pressures, have lower interest rates and reduce the current account deficit, among other benefits.
The Chilean economy since the return of democracy in 1990 has become a model case for developing countries with sustained growth, balanced budgets, foreign trade surplus, attracting massive investments particularly in the mining sector and excellent macroeconomic indexes.
However there is still much to achieve in education, health, social services as was experienced during the recent students' protests and demonstrations, lasting over 18 months and with ample public opinion support.