Indigenous 12-year old beaten to death in north-east Argentina
Wednesday, January 9th 2013 - 02:41 UTC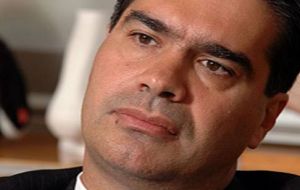 The death by beating of a 12 year old indigenous Qom child in the north of Argentina had shocked public opinion following on another incident less than a month ago when a gendarme run over an indigenous grandmother and a ten month old baby girl.
"The homicide to Imer Ilvencio Flores has plunged the Chaco community in mourning. Our solidarity with the family and the whole Qom community" said Jorge Capitanich, governor of the impoverished province of Chaco in the northeast of Argentina and neighbouring with Paraguay.
The 12 year old Flores last January 4 was celebrating summer festivities with several friends but never returned home and his dead body was found the following day with the face totally disfigured in Villa Bermejito a village in Chaco.
"The criminal killed him with a bat" said his uncle Miguel Flores who added Imer was only identified because of a tattoo with a qom symbol which had also been partially scrapped off.
"The homicide which occurred only a hundred metres away from the municipal camping site has a 31 year old murder suspect: we call on the courts to act hastily to resolve this terrible incident" added Capitanich.
The suspect under arrest had a discussion with the youngster before his death and also has a record of aggressions against other indigenous from the same community, who also consider him guilty of the murder.
"Once again naroqshe (white man) impregnates with pain and death the Qom people" said the Qom Carashes Council from the region in a release.
An estimated 300 members of the Qom community are camping outside the local police station to demand justice; an incident which through Internet and the social networks is has shocked urban Argentina and is rapidly expanding outside the country.
The death of 12-year old Flores follows another incident in which a ten months old Qom baby and her 49 year old grandmother were run over by a gendarme in the neighbouring province of Formosa.
The grandfather who survived the attack claims "it was no accident, it was on purpose" and the gendarme instead of helping, beat him and threatened his life if he filed a complaint on the incident.
"He beat me, he insulted me, he called me f… indian while my grand-daughter was agonizing", claims Ricardo Coyipé a well known activist of Qom rights. The indigenous population is Argentina according to the latest census is 2.5% but in Chaco and Formosa the percentage in more than double, and their lands are prey of big landlords of the region with support from local police and security forces.
Both incidents are embarrassing for Capitanich who has political ambitions that go beyond that of governor of a north-eastern province.