The 2012/13 cruise season: a new case of Argentine intolerance towards Malvinas
Wednesday, January 9th 2013 - 05:12 UTC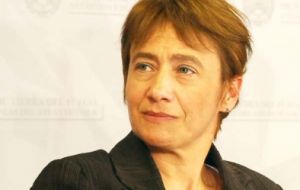 Most probably this cruise season 2012/2013 will be remembered not for the record number of calls or visitors (estimated in half a million) but as a new case of Argentine intolerance with the Malvinas Islands in centre stage, writes La Nacion columnist Emiliano Galli.
Maritime agencies which render operational services to the cruise companies (they don't sell tickets but rather are in charge of all the paper work to dock and leave Argentine ports), which also call in the Falkland Islands have been taken hostage by radical groups such as Malvinas Resistance and Quebracho, among others. This has meant that the Aida cruises will not be returning to Argentina this season but will continue calling in Malvinas.
These radical groups put pressure to impede cruise vessels from calling in Argentine ports if they also include in their itinerary the Falklands/Malvinas (and if their flag, agency or company have any kind of links with the UK), with pickets when passengers disembark, distributing pamphlets and even delaying tug operations.
But Galli also points out that something happened last week, because none other than the 'Star Princess' and 'Seabourn Sojourn' called in Ushuaia, where the controversial Gaucho Rivero Law is prevalent and which refers to a docking and service ban in Tierra del Fuego province for any vessel of UK or convenience flag involved in logistics and support operations related to natural resources exploration or exploitation (oil industry) in the Malvinas Islands basin.
In effect and according to columnist Galli contrary to a year ago and recent events this last week, Tierra del Fuego, Antarctica and South Atlantic Islands governor Fabiana Rios allowed the cruise vessels to dock undisturbed.
"The only possible explanation is that she was clearly instructed" and this could only come directly from Government House (Casa Rosada) since Governor Rios is not only a close ally of President Cristina Fernandez but is also highly dependent on the federal cheque and generous legislation for companies to invest and develop the region.
This however did not impede that visitors landing last Friday in the port of Buenos Aires were exposed to pamphlets from the radical group Malvinas Resistance with diatribes such as "The empire is making use of you as shock troops" and "At some time you will clash with our shock troops".