Cristina Fernandez targets UK 'threats' to keep escalating the Falklands' dispute
Thursday, January 10th 2013 - 04:06 UTC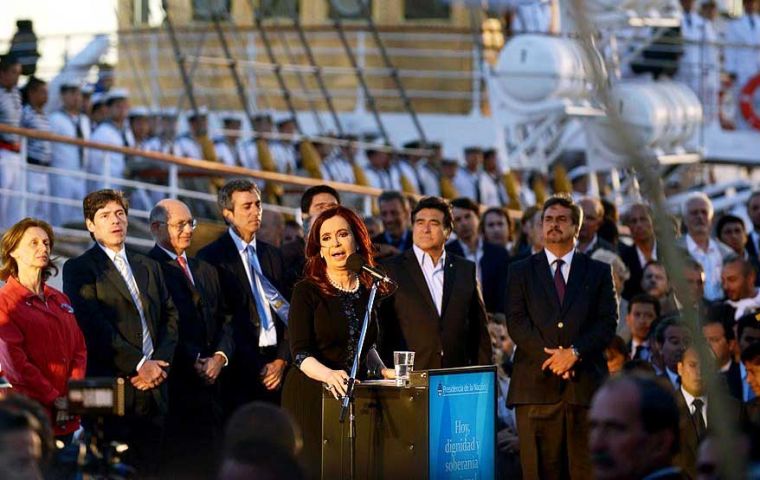 Argentine president Cristina Kirchner targeted the UK for "threatening" to come "to militarize and invade our Malvinas Islands" following the announcement that an additional 150 British soldiers are been sent to the Falklands and PM David Cameron recent warnings on support of the Islands.
"We are at a very particular historic moment where Argentina once again in under attack from the 'vulture' funds and from others, 12.000 kilometres away that are threatening to come to militarize and invade our Malvinas Islands", underlined the Argentine president during her speech at the welcome ceremony for the frigate ARA Libertad in Mar del Plata Wednesday evening.
According to a piece from the Nottingham Post, 150 members of B Company of the 2nd Mercian Battalion will be on a routine two-month tour of duty in the Falklands on daily patrols "against any threat from Argentina"
Apparently a small number of soldiers have already arrived on the Islands but the majority of the soldiers will take the 18-hour flight to the Falklands in the next two weeks. A mixture of ranks will work with comrades from other British Army units as well as RAF and Royal Navy personnel who are based at the Falklands.
"Their role will be to undertake regular patrols protecting key locations across the Falklands as well as training in heavy arms and small arms" according to comments from a military spokesperson who added an 'educational element' to the tour.
"There is also an educational element to the tour with the soldiers learning about the history of the issues in relation to past conflicts".
Earlier in the week PM David Cameron said it was up to the Islanders to decide on their future and if they wished to remain British, and if so vowed to fight to keep the Falklands in the face of mounting Argentine pressure. He insisted British resolve was "extremely strong" and pointed out fast jets and troops are stationed on the Falklands.
The statements from Cameron followed on Cristina Fernandez claims accusing Britain of colonialism and demanded the Falklands were handed back to Argentina.
In an open letter published as an advert in the Guardian she said Argentina was forcibly stripped of the Malvinas in "a blatant exercise of 19th-century colonialism".
Tension on the Falklands/Malvinas dispute is expected to keep mounting not only because January 2013 is the 180 symbolic anniversary of the alleged 'stripping' but mainly because the Falklands are holding next March a referendum with international observers, to decide on their status and future.
This has infuriated Argentina that insists the dispute is bilateral (UK/Argentina) while for Britain it is trilateral with the most important issue the self determination of the people from the Falklands, which must be respected.