Venezuelan opposition leader accepts high court ruling but tells government 'back to work'
Thursday, January 10th 2013 - 12:57 UTC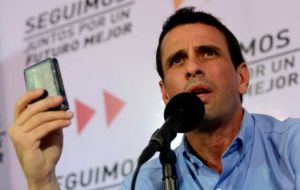 Opposition leader Enrique Capriles accepted Venezuela's high court sentence endorsing the postponement of President Hugo Chavez inauguration on Thursday and the ruling that the cancer-stricken leader and his administration remained in office, since "as president re-elect there is no interruption of performance of duties".

"Now you have your wanted sentence; there is an interpretation from the Supreme Justice Tribunal, end of excuses Mr (Vice-president) Maduro now it's your turn to assume the responsibilities of the post you occupy and begin governing" said Capriles during a press conference to comment on the ruling which he described as binding.

"The Tribunal gave the government an interpretation to solve a serious problems they have" added Capriles who nevertheless insisted that "it is disappointing because such instances as the constitutional succession should not respond to a party's interests".

"Maduro and the rest of the (current) government were not elected, the only one elected was President Chavez; there should be no partisan interests in this delicate issue", said the opposition leader who nevertheless demanded that the current administration ends with the paralysis and begins to take decisions.

The high court's ruling said that the current government can continue after January 10, when the presidential mandate ends and the new one begins, based on the principle of "administrative continuity".

The constitutional chamber from the high court added that "right now we cannot say when, how or where the president will be sworn in", but as president re-elect there is no interruption of performance of duties; the inauguration can be carried out at a later date before the Supreme Tribunal".

The 58-year-old leader has not been seen in public nor heard from in almost a month following surgery in Cuba. The government says he is in a delicate condition and cannot attend this Thursday's scheduled swearing-in for a new six-year term.

Capriles was recently re-elected as governor of the state of Miranda after losing the presidential election with Chavez last 7 October. In his state's re-election bid he defeated Elias Jaua, a Chavez heavy weight and former vice-president.

Capriles also praised the fact that the majority of Latinamerican presidents would not be attending the massive rally organized by the ruling PSUV party for Thursday January 10 in Caracas in support of President Chavez, a kind of spontaneous popular legitimization of the re-re-elected and undisputed leader of Venezuela.

The opposition leader described Thursday's rally as clearly a "political rally" and regretted that Uruguay's Jose Mujica, Bolivia's Evo Morales and Nicaragua's Daniel Ortega confirmed their attendance. Ortega is scheduled to address the crowd to express the 'love of the rest of the continent' for the Venezuelan leader and his revolution.