OAS respects Venezuela's decision to postpone Chavez inauguration
Saturday, January 12th 2013 - 11:51 UTC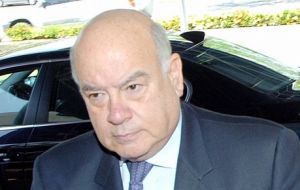 Organization of American States Secretary General José Miguel Insulza, said in statements to the press that the hemispheric body "fully respects and how could it be otherwise the decision of the constitutional powers of Venezuela regarding the inauguration of the President of that country".
"The issue has been resolved by the three branches of government of Venezuela: it was presented by the Executive, considered by the Legislature and decided by the Judiciary". The possibilities have been exhausted and therefore the process that will take place in that country is that which has been decided by the three powers," said Secretary General Insulza.
The head of the hemispheric institution said the Venezuelan state authorities "chose a path that allows time for the situation to be ascertained and provides a waiting period for the President-elect to be sworn in again."
Responding to a question from journalists, Insulza said "if any country wants to take up this or any other topic in the OAS, they can bring it to the Permanent Council." He added that "the OAS participates when there is a institutional crisis between the powers of a state, but here there is no need for any authority of the Venezuelan state to rule on the issue. They must interpret the Constitution and how they interpret it is their prerogative".
Meanwhile from Caracas it was revealed that next Tuesday Insulza will be receiving a delegation from the Venezuelan opposition Democratic Unity Table, MUD.
The chairman of MUD who made the announcement also considered Insulza's statement accepting the postponement of President Hugo Chavez inauguration as 'regrettable'. Insulza is currently in Chile and over the weekend will be attending in a seminar from the UN Economic Commission for Latinamerica and the Caribbean in Viña del Mar.