US waiting for Venezuela situation to 'clear up'; insists constitution must be complied
Tuesday, January 15th 2013 - 06:53 UTC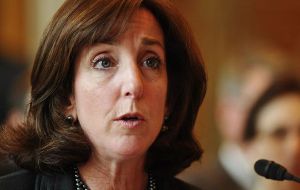 United States and other Latinamerican countries wish the situation in Venezuela 'clears up', said Roberta S. Jacobson Assistant Secretary of State for Western Hemisphere Affairs, currently in Spain as part of a visit that also includes the UK and Belgium.
"It is a difficult time for Venezuelans" said Ms Jacobson who also recalled that on several occasions the administration of President Obama has expressed wishes for a quick recovery of cancer-stricken President Hugo Chavez, currently in Havana convalescent of the fourth surgery in eighteen months.
Ms Jacobson revealed she has had many contacts with colleagues from Latinamerica in recent weeks to talk about the situation in Venezuela and wish a quick recovery of the Venezuelan leader.
"We all want the situation in Venezuela to clear up" said Ms Jacobson who added that if the constitution of the country determines that "fresh elections" are needed, she is hopeful that the elections are "open for all".
In that context she emphasized that Washington was hopeful that Venezuela's problems are addressed according to the constitution and democratic institutions and instruments.
Ms Jacobson also referred to Venezuela and US tentative moves to improve relations, as has been repeatedly expressed by the administration of President Obama.
Officials say the détente began in late November, when Roberta Jacobson, telephoned Vice President Nicolás Maduro, the Chávez-designated heir. Both sides discussed areas of mutual interest, according to the top diplomat for Latinamerican affairs.
"We have for some time made it clear that we were willing and open to trying to improve our ties with Venezuela" State Department spokeswoman Victoria Nuland said at a briefing last week when the news was first leaked in the media.
Maduro at the time also revealed that President Chavez was well aware of the contacts and he supported them.