Cristina Fernandez has hand-written copies of Chavez political testament, says Bocaranda
Wednesday, January 16th 2013 - 06:45 UTC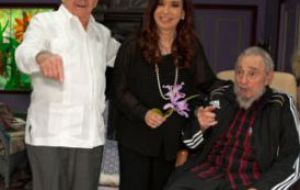 Argentine president Cristina Fernandez in her recent visit to Cuba declined to see the ailing Hugo Chavez but surprised her hosts, the Castro brothers, when she revealed having received two letters from the Venezuelan leader which she considered to be his political testament.
Nelson Bocaranda the veteran Venezuelan communicator considered the best informed journalist of what is going on in his country and in Cuba where the cancer stricken Hugo Chavez is fighting for his life, made this brief comment on the recent visit of Argentine President Cristina Fernandez.
The Argentine president arrived in rigorous black with a Bible and two medallions, one from patron saint the Virgin of Lujan and the second Saint Benito Abad, which she planned to hand personally to Chavez. His family given the closeness, love and friendship with Cristina Fernandez allowed her to enter the Unit of Intensive Care at the hospital and see the convalescent Chavez, but she declined.
"As she told her closest aides in the flight that took her from Cuba to the Arab Emirates 'I want to keep the image of a strong and active Hugo'", reveals Bocaranda in his column. And that is why in her twitter on leaving Cuba she posted "Forever".
However a curious piece of information until now unknown is that during a meeting with her hosts the Castro brothers, Fidel and Raul, Cristina Fernandez told them she had received copies of two letters hand written by Chavez in early December, before his last surgery, which she described as "his political testament".
Until then it was believed that only Venezuela's Attorney General Cilia Flores (and wife of Vice president Nicolas Maduro) had the originals (¿?) Cristina Fernandez later confessed to her closest aides that the surprise in the faces of the Castro family and the Cuban Foreign minister when she mentioned the letters, also stunned her.
Finally Bocaranda says that following on former Brazilian president announcement that he plans to visit Chavez in Cuba in a month's time, means that the "stationary situation of the Venezuelan leader has at least another thirty days".