Atlantic countries concerned with UK presence in Falklands; call for talks with Argentina
Thursday, January 17th 2013 - 15:38 UTC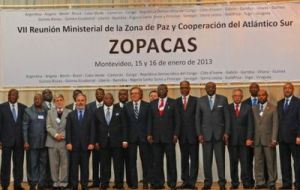 Twenty one countries from South America and Africa strongly supported their commitment to keep the South Atlantic free of arms of massive destruction and expressed concern over the British military presence in the Falklands/Malvinas, which are claimed by Argentina.
The South Atlantic Zone of Peace and Cooperation, (ZOPACAS), which was created in 1986 by a UN General Assembly resolution, underlined its "commitment with the consolidation of the South Atlantic as a zone of peace and cooperation free of nuclear and other arms of massive destruction" and called on other countries to acknowledge it as such.
The statement was released at the end of a ZOPACAS ministerial two-day meeting in Uruguay collected in the "Declaration of Montevideo", an 18 pages with 124 articles document.
The group is made up of 24 countries, three from South America (Argentina, Uruguay and Brazil) and 21 from Africa all of them with coast on the Atlantic Ocean.
The declaration calls for "quick and unconditional end to colonialism in all its forms and manifestations" and for the resumption of negotiations between Argentina and the UK in accordance with the UN resolution on the "Falklands/Malvinas question", the South Atlantic archipelago which Argentina argues is under British control since 1833.
"In this context we see with concern the development of illegitimate hydrocarbons exploration activities in the disputed zone as well as the strengthening of the UK military presence in the zone", reads a passage of the declaration.
The 21 countries also asked for an "urgent reform" of the UN Security Council so that it becomes "more representative of developing countries, efficient and transparent" and for "an international financial architecture more representative in which the developing countries have a greater representation and voice".
Likewise it was agreed to increase cooperation among country members in the fields of science, technology, education, coastal patrolling, environment, trade and defence.
In defence there is the need to establish mechanisms for an efficient exchange between authorities and institutions, combined military exercises, official visits and other programs to enhance the construction of the defence capabilities of the zone.
In a second document titled "Plan of Action of Montevideo" there is a commitment to cooperate in sea bed exploration, preservation of the marine environment, air and maritime transport, maritime and port security and combined efforts to combat organized trans-national crime, among other areas.
The issue of governance and promoting economic development was addressed at the ministerial discussions and some referente added to the declaration.
Finally ministers pledged to revitalize the organization for which the group's representatives will be meeting annually on the side lines of the UN General Assembly and every two years hold regular events.
Born as a project to revalue South-South cooperation, the group has so far managed to hold six Foreign ministers meetings, the last of which in Angola. For the event in Montevideo Defence ministers were invited. The next meeting is scheduled in Cape Verde in 2015.
Representatives from Angola, Benin, Cape Verde, Cameroon, Congo, Ivory Coast, Gabon, Gambia, Ghana, Guinea, Equatorial Guinea, Liberia, Namibia, Nigeria, Democratic Republic of Congo, Senegal, South Africa and Togo together with their peers from Argentina, Brazil and Uruguay attended the ministerial meeting in Montevideo.
Guinea-Bissau, Saint Tomé and Principe and Sierra Leone were absent.
In his closing words Uruguayan Foreign minister Luis Almagro who will be presiding ZOPACAS until 2015 underlined peace and regional integration between South America and Africa.
"ZOPACAS is above all a peace project and a contribution to preserve the region from armamentism threats and militaristic temptations, opening instead wide paths for cooperation between out two continents", said Almagro.

Categories: Economy, Energy & Oil, Environment, Fisheries, Politics, Argentina, Brazil, Falkland Islands, International, Latin America, Mercosur, Uruguay.