Argentine Defence minister 'ashamed' of the Santisima Trinidad sinking in port
Thursday, January 24th 2013 - 20:02 UTC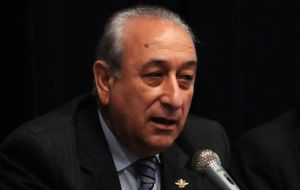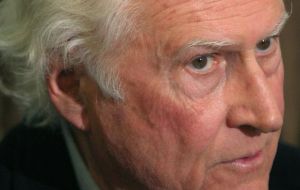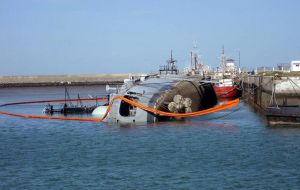 Argentine Defence Minister Arturo Puricelli said that the sinking of the destroyer ARA Santísima Trinidad could have been a planned sabotage attack, but also confessed that when President Cristina Fernandez asks him why the ship sank his face drops with embarrassment.
"When the president asks me, she will witness my face drop when having to tell her that an anchored ship in a port sank," the Puricelli told radio reporters on Wednesday morning.
Nonetheless, the official did point out that the ship docked at the naval base of Puerto Belgrano was "out of service," and on its way to the scrap yard.
According to a report, the ship started to sink because of a broken pipe inside of a damaged compartment. That said, Puricelli has ordered that the Navy carry out a full investigation, in order to fully define the causes of the incident.
The ARA Santísima Trinidad has been out of service since 2004 and anchored in the central navy base close to the town of Bahía Blanca. She had been cannibalized so that her sister ship ARA Hercules could remain operational.
ARA Santísima Trinidad is a Type 42 destroyer, the only of her class built outside Britain. She participated in the 1982 Falklands war. Her sister ARA Hercules was built at Vickers in the UK.
However despite Puricelli's comments an independent lawmaker, Pino Solanas said that if it is true that the vessel went down because of an act of 'sabotage', the minister should then "sack all of the Navy's ranking officers".
"Puricelli's statements and excuses are regrettable and pitiful" said Solanas adding that he should really be ashamed because "we have become the laughing stock of the world, our men-o-war sink in our main naval base".
He recalled other events involving the Argentine navy such as the impounding of the flagship ARA Libertad in Ghana; the corvette ARA Espora delayed 78 days in South Africa because of lack of spares and now the Santisima Trinidad.
"This only goes to show the negligence and irresponsibility of those accountable for Defence", said lawmaker Solanas.