Exchange Mali support for French involvement if Argentina 'invades' Falklands, suggests MP
Thursday, January 24th 2013 - 19:58 UTC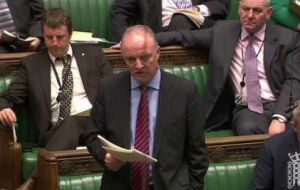 A British Member of Parliament called for greater military support for France in Mali as a way of committing Paris in the event of an Argentine 'invasion' of the Falklands. However the British government downplayed any military attempt from Argentina and reiterated that no ground troops will put foot in the African country.
MP David Crausby, Labour from North Bolton told Parliament on Wednesday morning that London should call for France's support in the event of an armed conflict in the South Atlantic, as happened in 1982. His words were supported by Jean Stroud-Mort the widow of John Stroud who was killed during the Falklands conflict at the age of 20.
The Royal Air Force is currently providing logistical support to France in its ground campaign against Muslim rebels in Mali.
MP Crausby asked whether "France would return the favour if Argentina ever invaded the Falkland Islands".
Argentina occupied the islands in 1982 until they were reclaimed by a British task force, but tensions in the South Atlantic have escalated recently with ships flying the Falklands flag being banned from some South American ports.
Addressing Andrew Robathan, the minister of state for defence personnel, in parliament, MP Crausby asked if he expected any support from the French in the event of an invasion, and whether he had discussed the matter with his European counterparts.
Minister Robathan replied that it was unlikely that Argentina would invade the Falklands because there was a clause in the country's constitution that prohibited it.
He said: "I have not had any discussions with the French on this matter".
Speaking after the debate Mr Crausby told The Bolton News: "The point I'm making is we are quick to help them but everybody knows they won't help us in the Falkland Islands. "Every time Argentina is in trouble it raises the issue of the Falkland Islands because it's popular with the people.
"I don't expect a conflict but we shouldn't be complacent. The only way we can do that is by increasing defence spending — which is unlikely — or by having the support of our so-called allies like the French."
Mrs Stroud-Mort said: "France didn't support us during the Falklands War so I think David Crausby should raise the issue — I have a lot of respect for him.
"The Falkland Islands should be supported by the UN, not just by the UK on its own" concluded the Falklands' widow.