Spanish secessionism makes first move: Catalonia is "a sovereign political and legal entity"
Monday, January 28th 2013 - 04:49 UTC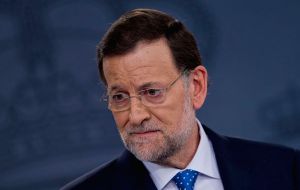 Catalonia regional parliament has approved a declaration proclaiming the Catalan people a "sovereign political and legal entity". The motion also calls for a referendum to be held to allow Catalans their say on independence.
The motion was passed by 85 votes to 41. The ruling Convergencia I Union coalition was backed by its parliamentary partner Esquerra Republicana (ERC), and the communist green coalition ICV.
The Partido Popular, most of the Catalan socialists (PSC) Party, and Ciutadans, a non-separatist platform, voted against.
The growing separatist movement in wealthy Catalonia - which has its own language - presents a major challenge for Prime Minister Mariano Rajoy as he fights to maintain Spanish unity and steer the country out of a deep economic and fiscal crisis.
Rajoy's government says it will fight on constitutional grounds any attempt to hold a referendum on secession from Spain. It is widely believed that if Catalonia holds a referendum, the Basque Country would follow, potentially breaking up Spain.
The declaration backs the right to self determination and states that "all existing legal means will be utilized to effect democratic strengthening and the exercise of the right to decide in dialogue and negotiation with the Spanish state, the European institutions and the international community."
The exact nature of the text had caused divisions in the Socialist ranks and among the upper echelons of the CiU coalition.
ERC leader Oriol Junqueras opened the debate on what he called a "historic day."
"Sovereignty implies, literally, that there is nothing that ranks higher than the democratic will of the people," Junqueras said. In response to the Socialists' proposal for shared sovereignty with Spain, Junqueras noted: "The right to decide cannot be shared with another legal entity. The right to decide is a matter of one, not two or three."