CELAC is "no threat for OAS, rather a useful component" says Insulza
Tuesday, January 29th 2013 - 03:34 UTC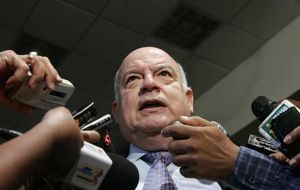 The Community of Latinamerican and Caribbean States, CELAC, is "no threat" but rather a useful component for the Organization of American States, OAS, said Secretary General Jose Miguel Insulza during his attendance to the Celac summit meetings.
"They are different things and CELAC is not destined to compete with OAS, rather it is a useful component" said Insulza. He added that OAS has a hemispheric duty and also includes North America which, like it or not represents a third of the region's population. Therefore there is ample space for a hemispheric policy".
Insulza was referring to the fact that the US and Canada belong to OAS but have been excluded from CELAC. "Certainly CELAC is no threat".
OAS excluded Cuba back in 1962 but in 2009 during a summit in Honduras Havana's reincorporation was approved although the Castro brothers' regime did not accept integration to a regional body created and sponsored by the US following the Second World War.
Cuban president Raul Castro took office Monday as the pro-tempore president of CELAC at the end of a summit in Chile, which hosted the event and held the chair until this summit.
Insulza said he could not question a decision adopted in the Caracas summit in December 2011 in which CELAC, made up of 33 countries from the region was officially born.
"There is no way I can question that decision, it's not my organization; it's not my responsibility. Regarding Cuba I have always believed that inclusion and cooperation with Cuba is far better to promote democracy than exclusion and isolation", added Insulza.
But the problem is the following: "CELAC was created on certain foundations I have no powers to question and Cuba was admitted as full member. Once inside, it's only natural that all countries must have the same rights. Cuba thus has the right to occupy the presidency of the group as any other country".
Now, "if this was convenient or not in a nascent community that still needs to consolidate internationally and where there will be a lot of criticisms and discussions, that is up to the heads of state and government to asses when they made the original decision", argued Insulza.
Cuba will be chairing CELAC following an agreement which has Costa Rica succeeding in such a way that some kind of balance can be met.