Letter from Chavez calls for regional unit, supports Cuba and condemns UK on the Falklands
Tuesday, January 29th 2013 - 05:58 UTC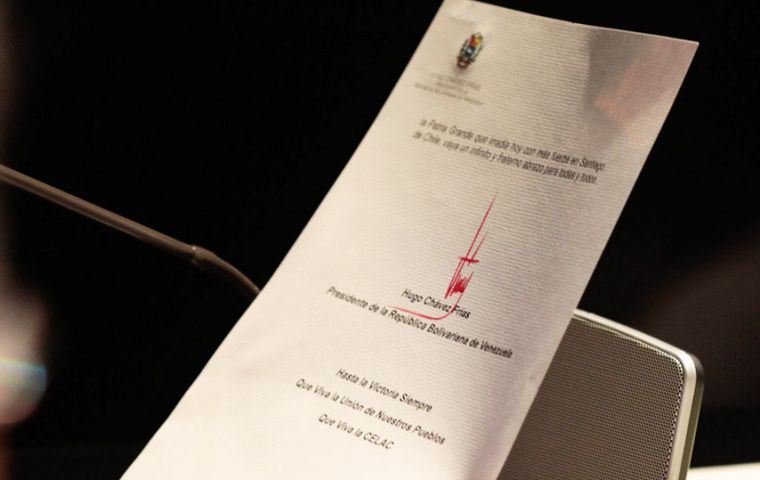 Vice-president Nicolas Maduro, read an eleven page letter he said was written by ailing President Hugo Chavez in which the Venezuelan leader calls for Latinamerican unit, praises Cuba's chairmanship of CELAC group and takes time to support Argentina's claims over the Falkland/Malvinas Islands.
"I regret not being able to be at the Santiago de Chile appointment but it is known by all of you that since last December I'm again battling for my health in revolutionary and sister Cuba. These lines thus are but a way of making myself present at the summit", said Chavez in the letter addressed to the leaders from the Community of Latinamerican and Caribbean States meeting in Santiago de Chile on Monday.
Chavez has been in Cuba since mid December when he went his fourth cancer surgery in 18 months and which according to official reports has suffered several complications such as respiratory insufficiency.
"I rest all my conviction on reiterating that "or we build an only big motherland or we will have no motherland" writes Chavez in a letter full of literary and thinkers quotes, such as Simon Bolivar, Jorge Luis Borges and the poet Pablo Neruda.
Chavez was one of the promoters of CELAC to counterbalance the Organization of American States, OAS, where the influence of the 'empire' and the target of his attacks where the US has a predominant influence.
"Since that December 2011 when we founded in Caracas CELAC, world events have but ratified the extraordinary importance of that step forward we agreed on then", recalls the Venezuelan leader.
The letter also celebrated Cuban President Raul Castro's assumption of the rotating presidency of CELAC.
"After 30 years of resisting this criminal imperial blockade, Latin America and the Caribbean are saying to the US, in one voice, that all your attempts to leave out Cuba are failing," it added.
Maduro made no comments about the letter after reading it to other leaders. He has been the government's top public figure while Chavez remains in Cuba. The letter was highly anticipated after Venezuelan officials said it would show that Chavez remains lucid and in charge.
Chilean President and summit host Sebastian Piñera has said several times that the gathered leaders are praying for Chavez's recovery. In the letter, Chavez says he'll be watching from Havana and "praying for the complete and excellent development of CELAC."
The letter is classic Chavez, urging the leaders to work together on a broad range of issues, from energy policies to literacy. It defends Argentina's position on the Falklands, which are "Islands the country says were stolen from them by Britain 180 years ago".
"The fight continues," the letter said. "There is more than one who is brave, from here to Patagonia."
As Maduro finished reading, television images showed Chavez's signature in red ink at the bottom of the letter.