Pacific alliance pledges to liberalize intra-trade for 90% of products by March 31
Wednesday, January 30th 2013 - 06:47 UTC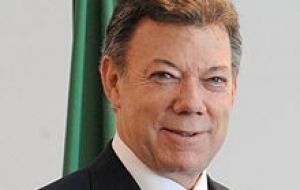 The Alliance of the Pacific, Chile, Peru, Colombia and Mexico have agreed to liberalize 90% of products traded between the group before the end of March 31, a decision which runs counter to the growing protectionism implemented by some of the region's largest economies on the Atlantic.
The four nations made the announcement over the weekend in Santiago de Chile. The four have trade agreements with the world's leading economies such as the United States, European Union and China, plus accords among them that benefit exports with preferential tariffs.
Chilean president Sebastián Piñera said that the target is to take tariffs to zero for all the goods traded by the alliance, which was only recently born as a political association and is seen as counter to the Mercosur customs' union headed by Brazil and Argentina.
"It means that at least 90% of products will be free of all tariffs in trade among our countries, while the other 10% will have a timetable to rapidly reach 100%", said Piñera although he gave no more details on the terms and deadline for its implementation.
Argentina and Brazil on the Atlantic have been applying protectionist measures to safeguard their industries which were strongly criticized by the United States, European Union and Japan, among others and led to formal dispute presentations before the World Trade Organization.
Piñera made the announcement at the end of the CELAC/EU summit in which Brussels that is trying to strengthen trade and investment links with Latinamerica after four years of recession, called on the region to play by the rules of free trade and reject protectionism and protectionist temptations.
"This is probably the most significant and ambitious integration process in the history of Latinamerica", said Colombian president Juan Manuel Santos standing next to his peers from Chile, Peru and Mexico.
The European Union has been discussing for over 18 years with Mercosur for a cooperation and free trade agreement. However EU agriculture subsidies and the Latinamerican reluctance to lower tariffs for manufactured goods and services had again stalled the talks that had resumed three years ago in Madrid, Spain.
Chile, Colombia and Peru, commodities exporting countries have been growing sustainedly for the last ten years and attract most direct foreign investment to the region.