Sao Paulo delegation in UK with PPP infrastructure projects worth 20bn dollars
Wednesday, January 30th 2013 - 06:22 UTC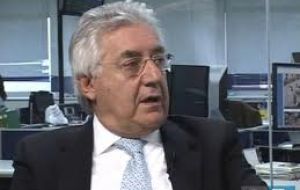 British Trade Minister Lord Green has welcomed a trade delegation from the Government of the state of Sao Paulo who are in the UK to present eight Public Private Partnership (PPP) infrastructure projects, worth 20 billion dollars, to British potential contractors.
The PPP projects for Sao Paulo, to be presented in the City of London include the construction and maintenance of three subway lines, a monorail, an intercity train network, three prison complexes, four new hospitals and implementation of digital interactive equipment in all schools in the Sao Paulo state (totalling 3.3 million students and 163,000 teachers).
Trade and Investment Minister Lord Green said that as Sao Paulo prepares to host the World Cup in 2014, there are some great infrastructure projects ready to get underway in Brazil and "our construction sector is one of the world's biggest and best, and UK companies are ideally placed to capitalize on these excellent opportunities".
He added that "for the London Olympics 2012 we showed the world what we can do. We have already witnessed the incredible regeneration of east London, with world class facilities and a new urban park created. We are now working hard, alongside firms around the country to follow up the contacts, networks, announcements and momentum created by the Games".
Deputy Governor of Sao Paulo, Guilherme Afif Domingos said that the state he represents is alone the 18th largest economy in the world, accounting for 33% of Brazil's GDP and it has a credibility track-record to attract investments in infrastructure through partnerships with the private sector.
"Moreover, the European crisis opens a window of opportunity to awaken the healthy appetite of foreign investors in search of good business options in emerging markets".
The event will involve a roundtable with UK infrastructure companies and banks, which will be introduced by Lord Green and Deputy Governor Afif. There will also be an evening reception at Mansion House, hosted by the Lord Mayor of London, where Lord Green will sign a Memorandum of Understanding between UK Trade & Investment (UKTI) and Invest Sao Paulo.