Argentina 'irritated' with Israel's attitude towards accord with Iran to investigate 1994 bombing
Thursday, January 31st 2013 - 07:47 UTC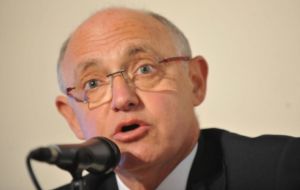 Argentine Foreign Minister Héctor Timerman summoned on Wednesday Israeli ambassador to Argentina Dorit Shavit, and expressed the "surprise and irritation" of President Cristina Fernandez government after learning that Tel Aviv had demanded an explanation from Argentine ambassador to Israel with regards to the recent agreement between Argentina and Iran.
According to official ministry sources, Timerman "expressed the surprise and irritation" caused by the Israeli government's decision to summon ambassador Carlos García to provide explanations regarding the memorandum of mutual understanding signed by Argentina to move forward in the investigation of the 1994 AMIA bombing.
"This is a sovereign act that doest not include the state of Israel," the ministry announced in a written statement.
Timerman summoned the Israeli ambassador and met with her at the ministry's offices.
Earlier in the day Minister Timerman had to come out strongly assuring that "no third party intervened in the 'memorandum of understanding' signed by Iran and Argentina which enables the latter to question Iranian citizens linked to the 1994 bombing of the AMIA Jewish Centre."
"The accord was the result of the dialogue between myself and Iran's Foreign Minister. Syria, Venezuela, Israel and the United States had nothing to do with it" Timerman told several media.
Finally Timerman harshly criticized those members of the opposition who bashed the accord by saying that "They are sent to put bumps in the government's road. That's all they do as they never seem to have or come up with proposals".
The 'memorandum of understanding' that includes the creation of a 'truth commission' and needs legislative approval in Argentina and Iran, has triggered much controversy for the Cristina Fernandez administration not only from Israel but also from the local Jewish organizations.
Argentina has the largest Jewish community in South America.