Argentine construction activity was down 3.2% in 2012, according to official stats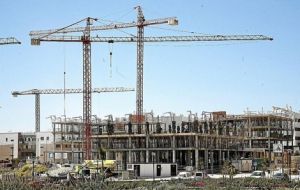 Argentina's construction activity registered a 3.2% drop in 2012 compared to the volume reported the previous year, according to the Indec national statistics bureau. This would be the first time in three years that the industry experienced a broad slowdown.
The official agency stated in a communiqué that construction activity had also dropped 4% in December year-on-year, and gained 0.9% against the previous month.
This was the biggest annual decline since the sector contracted 1.6% in 2009, a year in which the Argentine economy is widely believed to have suffered a deep recession. The government heavily questioned GDP Indec stats for that year was that growth reached 0.9%.
The areas dedicated to the construction, measured by the building petitions, plummeted 9.3% in 2012 year-on-year. Back in 2011, the activity had registered an 8.7% increase.
The construction industry is a major employer in Argentina and historically has been the preferred investment option for Argentines because of the country's long history with high inflation and economic instability.
After expanding 8.9% in 2011 the economy is estimated to have grown 2% last year because of weak exports to Brazil, government policies limiting imports, banning the free market of foreign currency and a severe drought that affected agriculture.
Although official Indec inflation has been below the two digits, private agencies and the so called Congressional index estimate it is in the range of 25%, and based on this index the unions sit for discussions on wage rounds.
Indec's stats are questioned not only in Argentina but internationally by organizations such as the IMF and World Bank. On Friday the IMF will be considering the Argentine case because of its reluctance to advance in elaborating a new system of calculating inflation and GDP, based on an agreement which had been reached beforehand with the Fund,