Cameron's Malvinas change in policy is "evidence of weakness and internal crisis"
Monday, February 4th 2013 - 04:55 UTC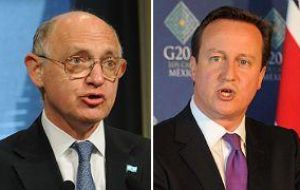 The British government's decision to deny a meeting between UK and Argentina foreign ministers is proof of "weakness" and evidence of "the internal crisis situation" in the ruling coalition led by Prime Minister David Cameron, said Argentine Foreign minister Hector Timerman.

"I think that PM Cameron's attitude of not allowing the meeting is a manifestation of weakness, a situation of internal crisis in the coalition", said Timerman in an interview published on Sunday in the government financed Pagina 12.

Timerman on Monday begins a week of activities related to Argentina's Falklands/Malvinas sovereignty claim, which has been preceded by an ongoing controversy over the presence of Falklands' elected government representatives in any meeting on the issue between Foreign Secretary William Hague and his Argentine peer.

"Malvinas is a bilateral issue" insisted Timerman who this week will be meeting British MPs in Parliament and holding a series of meetings with European groups that support UK/Argentina dialogue to resolve by peaceful means the dispute.

Regarding the Foreign Office 'new' policy of including Falklands' representatives when addressing Malvinas Islands' issues with Argentina, Timerman said this is a change of policy and underlined that the Falklands' government is "illegal" and according to the UN "it is a colony of implanted inhabitants from a colonial power".

Timerman said that the London trip will also help to address Argentina's concern as to the existence or not of nuclear weapons in the Malvinas and other issues related to natural resources such as fisheries and hydrocarbons.

"These are Argentine resources and are being exploited by a colonial power", said Timerman. He added that the 'weakness of the Cameron government in Malvinas affairs, "is evident from the moment it has denied the possibility of a meeting of foreign ministers".