Brazilian congress challenges Justice: votes graft suspects to key posts
Tuesday, February 5th 2013 - 02:58 UTC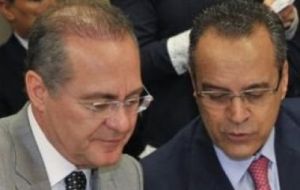 The lower chamber of Brazilian Congress voted overwhelmingly on Monday for Henrique Alves to become its speaker, even though he is under investigation for graft. The selection of Alves came after the Senate chose a new leader who is also accused of corruption.
Ordinary Brazilians see the choices as a step backward in an unprecedented clean-up in Brazilian politics in the past two years that saw six ministers fired because of corruption allegations and a judiciary crackdown on political graft.
Alves is a veteran of 42 years in Congress who survived corruption allegations a decade ago when his ex-wife said in a bitter divorce that he had stashed $15 million in offshore accounts. Prosecutors are still investigating her allegations.
On Friday the Senate chose Renan Calheiros as its president. He was forced to resign from the post in 2007 due to a scandal involving payments by a lobbyist to maintain his former mistress.
"The extracurricular activities of these two characters are well known," said political scientist David Fleischer of the University of Brasilia. "Their election is bad for Congress' worsening reputation."
Both men represent states in the poorer northeast of Brazil where traditional crony politics still prevail. They belong to the largest political party, the PMDB, the most important ally in President Dilma Rousseff's coalition government.
Rousseff established a reputation for not tolerating corruption by firing six ministers in her first year in office in 2011, which made her very popular among middle-class Brazilians despite a stagnating economy in the once-booming Latin American nation.
She distanced herself from corruption scandals that have implicated officials in the government of her mentor and predecessor Lula da Silva.
But it is the judiciary that has made the biggest splash in recent efforts to clean up Brazilian politics. In a landmark case, the Supreme Court convicted leaders of the ruling Workers' Party for buying votes in Congress to support Lula's government a decade ago.
It was Brazil's biggest political corruption case and the Supreme Court did not hesitate in convicting Lula's close political associates, including his former chief of staff Jose Dirceu.