France insists Euro is too strong; fears it could undermine exports
Tuesday, February 5th 2013 - 17:03 UTC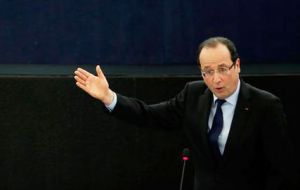 French President François Hollande called on the Euro zone on Tuesday to develop an exchange rate policy to help protect the common currency from "irrational movements". His comments came amid growing concern that the Euro, now trading around 1.35 to the US dollar, is too strong and could undermine the country's exporters and hence wider economic growth.
Hollande said that competitiveness reforms under way in many Euro-zone countries including France risked being undermined by the Euro exchange rate with key trading partners, but he stopped short of calling for exchange rate targets.
"Europe... is leaving the Euro vulnerable to irrational movements in one direction or the other," he said in his first speech as president to the European Parliament in Strasbourg.
"A monetary zone must have an exchange rate policy or else it ends up being subjected to an exchange rate that does not match the true state of its economy."
Hollande said the European Central Bank should remain independent and called instead for a reform of the international monetary system to better protect European economic interests. He did not spell out what reforms he had in mind.
His remarks came after Industry Minister Arnaud Montebourg called for a weaker Euro to help French exports, as the French government tries to revive a weakening manufacturing sector and narrow a large trade deficit.
"This is not about externally setting a target for the European Central Bank, which is independent, but about engaging the essential reform of the international monetary system," Hollande said.
He added that countries with strong exports such as Germany and several Nordic nations, should stimulate internal demand to create a fairer balance in the 27-member European Union.
On Sunday French Finance Minister Pierre Moscovici said in a television interview that "the Euro is doing better, the Euro is stable, the Euro is strong - perhaps even too strong in certain respects" Moscovici.
In reaction to Moscovici's assessment, Laurence Parisot, president of the employers group Medef, agreed in a radio interview that the Euro was "a bit elevated", while reminding as well that this was a reaction to renewed market confidence in the Euro-zone and that it helped limit the cost of imported commodities, notably oil.
"I would prefer, especially for certain industry sectors, that it were a little lower," she said. "We can hope that European Central Bank President Mario Draghi speaks out on issue" to "give a signal" to the markets, she said.
Moscovici maintained his projection for 0.8% domestic growth this year - at least until the European Commission releases updated forecasts at the end of this month. "If we have to adapt, we will adapt," he said.
Parisot, by contrast, argued that "French growth has broken down," noting that only one in five executives expected to increase turnover this year - "an incredibly low" share.
"Our country has lost competitiveness in recent months," Parisot said, pointing the finger at the government's "disastrous" policy of taxing capital earnings at the same rate as labor. The fallout is "catastrophic" for investment and business start-ups, she charged.