Osborne says with reform bill "no UK government would ever again bail-out an entire bank"
Tuesday, February 5th 2013 - 19:17 UTC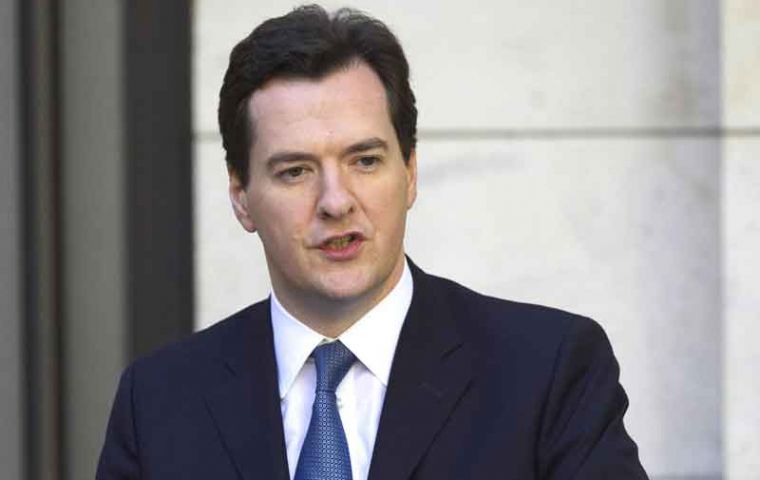 British Chancellor George Osborne has announced the Banking Reform Bill that will not only see savers' deposits safeguarded but also enforce rules to make it easier for consumers to switch bank accounts.
The Banking Reform Bill re-treads the well-worn ground of ring-fencing banks' risky investment operations from consumers' money with Osborne threatening'complete separation' of banks' different arms should they flout the new rules.
He warned that there will be no more 'too big to fail' and that no government would ever again bail-out an entire bank.
'When the RBS failed, my predecessor Alastair Darling felt he had no option but to bail the entire thing out. Not just RBS on the high street, but the trading positions in Asia, the mortgage books in sub-prime America, the property punts in Dubai,' said Osborne.
'I want to make sure that the next time a chancellor faces that decision they have a choice: to keep the bank branches going, the cash machines operating, while lettering the investment arm fail.'
This is not new territory, and the Parliamentary Commission on Banking Standards, set up after the Libor scandal, has already called for a reserve power to separate the banks if they did not implement reforms.
Andrew Tyrie, who chairs the commission, said in a report in December that the ring-fence around consumer deposits should be 'electrified' to protect not only the banks' customers but the taxpayer from the risk of another bailout.
Although the impact of the ring-fence may seem abstract to bank customers there are also some practical banking changes expected that will benefit consumers.
One part of the Bill will see bank switching reduced to seven days meaning it will be easier and faster for consumers to move bank accounts. The Office of Fair Trading has already made its concerns about competition in banking known, and told banks 'significant changes' are required and a shift in focus to customers' needs.
Sylvia Waycot of Moneyfacts.co.uk, said the Banking Reform Bill would 'please the scandal-weary consumer and at last allows some hope of repair to the damaged reputation of banking as a whole'
She said the seven-day switch should come into force in September 2013, but also warned: 'While it may be easier to switch current accounts, more competition will be needed to create the urge to move as the majority of accounts are held by the four largest providers, Lloyds, Royal Bank of Scotland, Barclays and HSBC.'
Waycot added that ring-fencing of savers' deposits may boost the savings market and push banks to offer better rates.
'Ring-fencing investment banks from high street banks may result in the need for the saver to supplement borrowing for mortgages and businesses. This would be welcome news to savers who have seen their interest fall as banks deserted them when they no longer had a need for their money.