Brazil and Israeli companies join to develop unmanned aircraft for border control
Wednesday, February 6th 2013 - 05:50 UTC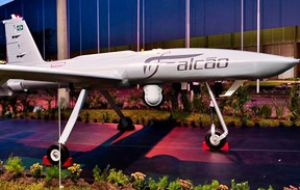 Brazilian defence contractor Avibras will join plane maker Embraer SA and the local unit of Israeli Defence Company Elbit Systems in developing unmanned aircraft in Brazil, the companies said on Tuesday.
Brazil will be hosting next year the World Cup and in 2016 the Olympic Games and needs to keep tight control of its 16.000 kilometres of frontiers with ten Latinamerican countries. This is particularly serious in the central south, Argentina, Paraguay and Bolivia, where smuggling is an everyday business from colonial times but now includes deadly arms for criminal activities and drugs.
Unmanned aircraft can play a key role in patrolling jungles and rivers from the air.
Avibras will take a 9% stake in a joint venture known as Harpia Systems, which will expand its line-up to include the Falcao unmanned aircraft that Avibras has developed for Brazil's Air Force.
"Avibras' participation increases domestic shareholding in Harpia Systems," Embraer's defence chief Luiz Carlos Aguiar said in a statement, adding that the joint venture now qualifies as a strategic defence company under Brazilian law.
Embraer will hold on to its 51% stake in Harpia, while Elbit's Brazilian unit AEL Systems will reduce its stake from 49% to 40%.
Harpia is one of several new defence projects Embraer has undertaken in recent years to take advantage of Brazil's burgeoning military budget and offset the volatile sales cycle in commercial aviation.
Defence contracts will likely contribute 21% of the Embraer's revenue this year, the company said on Monday, more than doubling its share in five years.
From Sao Paulo it was also announced that Embraer would be refurbishing the five AWAC from the Brazilian Air Force in a program that will demand 210 million dollars.
The refurbishing will include avionics, electronic war systems, command and control, air vigilance radars with the purpose of improving border patrolling and transmitting to land, sea and air forces any strange movements or targets
The AWAC fleet will also be used to keep track of the great sports events in the busy international agenda extending until 2016.