Falklands will reply to Mr Timerman next month, when the referendum, said Governor Haywood
Friday, February 8th 2013 - 23:59 UTC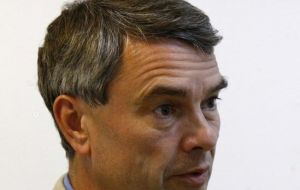 Falkland Islands governor Nigel Haywood said that the "Islanders will reply in next month's referendum" whether Argentina could be in control of the Malvinas archipelago 'within twenty years', as was announced by Argentine Foreign Minister Hector Timerman earlier this week in London.
"The reply on the possibility that the Islands become Argentine will be given by the Islanders in the (March 10/11) referendum", said Governor Haywood in dialogue with Argentina's news agency DyN (Diarios y Noticias) Friday morning.
"And the decision to hold a referendum" on the current political status of the Falklands as a British Overseas Territory has the full support from the UK government", added Mr. Haywood.
On March 10/11 the Falklands' people will be saying Yes or No to the question: "Do you wish the Falkland Islands to retain their current political status as an Overseas Territory of the United Kingdom?"
Jan Cheek, Member of the Falklands elected Legislative Assembly was also interviewed by DyN and said that during the two-day referendum "there will be international observers from very respectful international organizations", although preferred not to give names.
"Unfortunately the Argentine government will try to press them to withdraw", said MLA Cheek who this week was in London together with MLA Dick Sawle and met with Foreign Secretary William Hague among other high level UK government officials and MPs.
The Argentine government has anticipated that it considers the referendum "illegal", because as explained by Minister Timerman in London, "the UN declared that the organizing nation of the referendum is an implanted population in the Malvinas since 1833, when London forcibly expelled the Argentine inhabitants".
Nevertheless the Falklands' government is going ahead with the organization of the referendum which will have five balloting places, three in East Falkland, one of them mobile, and two in West Falkland, one of them mobile. The budget for the referendum was announced at £ 62.000 and volunteers have been called to help on the two days (March 10/11) and will be paid £ 7.89 the hour.
"The result will be announced immediately after the recount of votes is completed and verifies, and should be finished on the same night of March 11", MLA Jan Check revealed to DyN.